During Heritage Week I visited the Irish Workhouse Centre in Portumna, Co. Galway. I took a tour of the establishment during which the history of the workhouse was outlined from its initial design by architect George Wilkinson in 1849 up to its restoration and conservation from 1999 onwards. A total of 163 workhouses operated in Ireland from the early 1840s right up to the 1920s. I had no idea of the scale of he building as it is surrounded by a high wall. Destitute, poverty stricken people would come to the workhouse as a last resort. They were required to work for some food. On entry the family were separated and only children under two were permitted to stay with their mother. A harsh and chilling regime.
I walked in the footsteps of the destitute from the entrance hall where they were initially admitted, through to the girl's yard, the women's dormitory block, the matron's quarters and the laundry building. Each step building up a story of suffering, despair and hopelessness. A final glimpse at the end of the infirmary where
many ended their short sad lives.
This is a very poignant and sad period in Irish History. Workhouses were described as the 'most feared and hated institutions ever established in Ireland'.
The Irish Workhouse Centre is a fine example of restoration, conservation and re-development . It tells the story of this terrible time in Irish History for the current generation. It honours the memory of all those who lived and died there.
Headford Lace Project
I needed to learn about the history of the workhouses and get an understanding of the work being done at the Irish Workhouse Centre and the possible overlap with the Headford Lace project. We are embarking on a collaboration with Dr. Christina Henri, a Tasmanian artist on two projects. The first, called ' Roses from the Heart', honours the memory of all those women who were transported from Ireland to Tasmania for small misdemeanors. The second, called 'Irish Roses - Bride Ship Lasses', honours the memories of all those women who were given assisted migration to Western Australia. Many left from workhouses.
Bonnets will be made by the Headford Lace Project as a tribute to some of these women, our focus being on the lacemakers among them.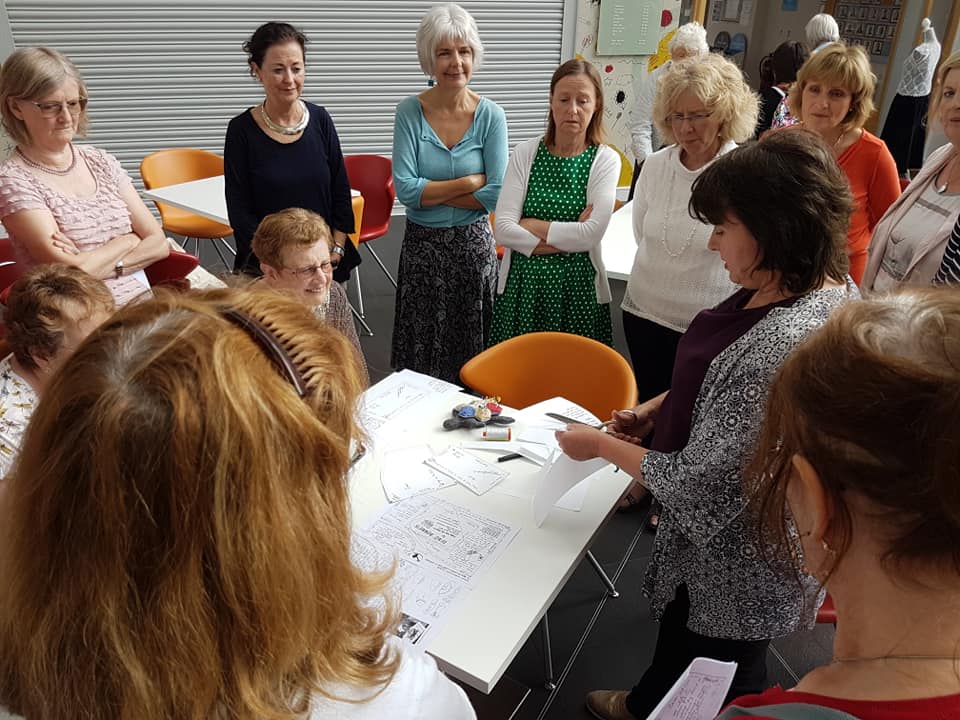 Ester Kiely, chairperson of the Headford Lace Project, demonstrating the bonnet pattern at 'Lace Up' during Heritage Week, an event organised by Headford Lace Project Education Officer, Anne O'Hara Quinn.