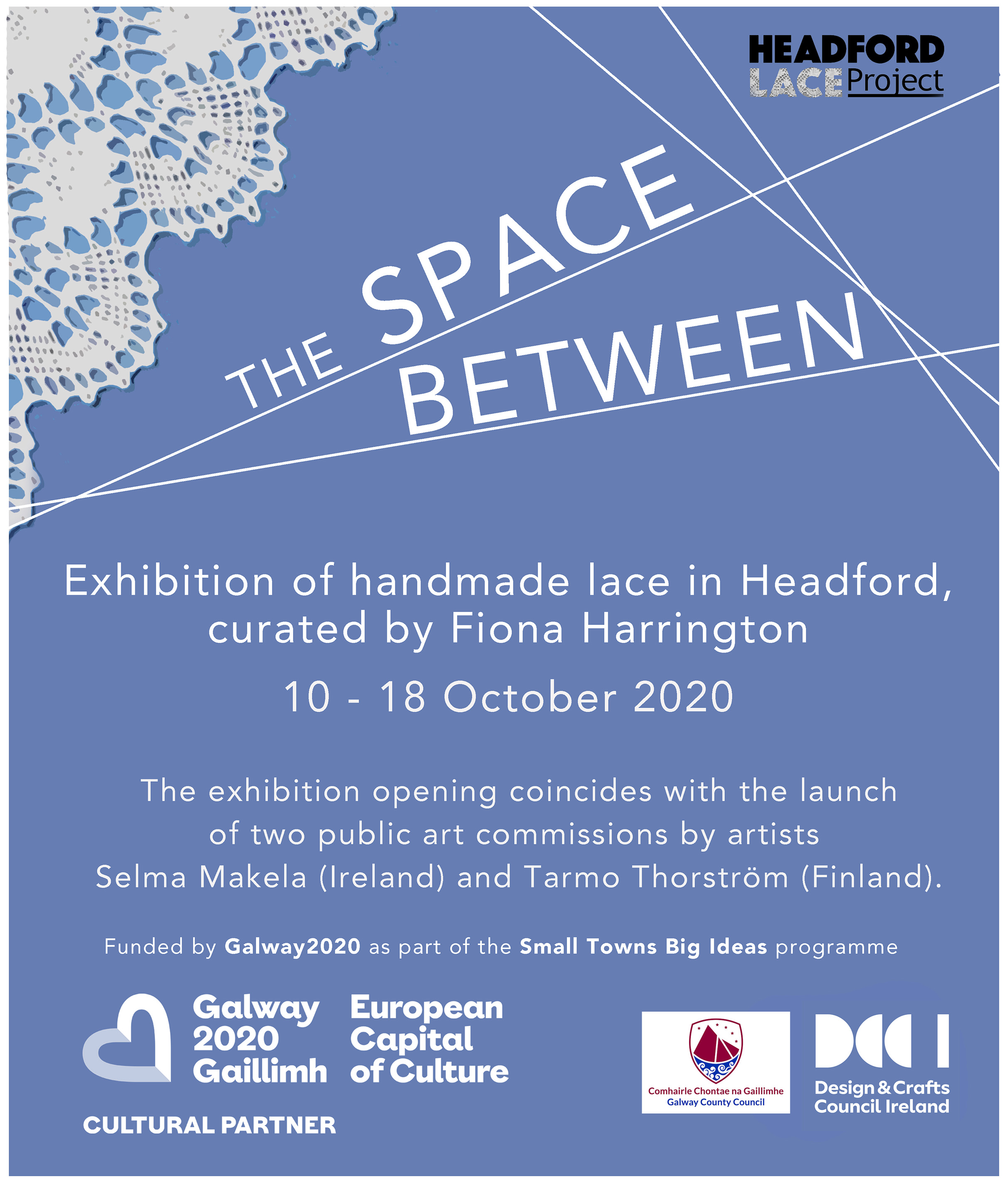 Frequently regarded as a female and a somewhat docile pastime, the practice of lacemaking has existed for centuries. Yet for all its frivolity it continues to influence contemporary makers today, often in a thought provoking and subversive manner.
The Space Between is an international exhibition of lace, comprising of artwork selected from 34 artists, from 11 countries across 4 different continents, all unified by one common interest - LACE.
This show provides a platform for those working with this medium to share their work with the people of Headford and further afield. Taking the form of an art trail, the windows of local businesses and buildings are transformed into a series of tiny galleries.
The title of the exhibition references the way in which lace is defined by the 'space' between the threads, as well as highlighting how lace exists in an 'in-between' space, completely open to interpretation, adaptation and innovation.

Contact us to order a copy of the full-colour, 132-page exhibition catalogue for €5 plus postage.
#thespacebetween
#smalltownsbigideas

Selected Artists
Amy Keefer (Alameda, California)
Andrea Brewster (Oakland, California)
Angharad Rixon (Wollongong, Australia)
Ann Keller (Dublin, Ireland)
Ashla Ward (Athenry, Ireland)
Camilla Hanney (London, United Kingdom)
Daniela Banatova (Belleview, Florida)
Eithne Guilfoyle (Dublin, Ireland)
Eleanor Parkes (London, United Kingdom)
Elisa Gonzalez
Ester Kiely (Headford, Ireland)
Ger Henry Hassett (Headford, Ireland)
Helena McAteer (Borris, Ireland)
Irish Crochet Lace Revival (Dublin, Ireland)
Jackie Magnin (Ahiohill, Ireland)
Jane Fullman (Thatcham, United Kingdom)
Kara Quinteros (South Hadley, Massachusetts)
Karen McArdle
Kim Lieberman (Johannesburg, South Africa)
M Mercè Rovira & Atena Pou
Sr. Madeleine Cleverly (Orleans, Massachusetts)
Malgorzata Szpila (Clydach, United Kingdom)
Marian Nuñez (Vigo, Spain)
Mary Elizabeth Barron (New Beith, Australia)
Norma Owens (Athenry, Ireland)
Olga Ieromina (Leiden, The Netherlands)
Rachel McGrath
Róisín de Buitléar (Dublin, Ireland)
Rosie Finnegan Bell (Newry, Northern Ireland)
Saidhbhín Gibson (Kildare, Ireland)
Suzanne Plamping (Nottingham, United Kingdom)
Tali Berger (Berlin, Germany)
Theresa Kelly (Carrickmacross, Ireland)
Vesna Šprogar (Ljubljana, Slovenia)
Exhibition Map