The first items were kindly donated to our lace archive in February 2017. The donor felt that these items, HLP/MK/001 - HLP/MK/015, would enhance our display areas. They were valued possessions in their day and she was keen that they find a new home. The archive has expanded from this initial donation to 170 items and it includes both handmade and machine made lace generously donated by members of the public. Much of this collection is a reflection of the social history of craftwork done by women in different eras. These threads of life bind us together and keep the memory of the women who made them alive. It helps us to learn about their lives and the hardships they endured as they cared for families. It also affords us an opportunity to learn about the different types of lace and marvel at the very high level of skill needed to create it.
Lace is a decorative luxury fabric made from thread. The wearing of lace was the preserve of the rich but it was made by the poor. Lace was an outward expression of social status and wealth. There are some fine pieces of silk needlelace in the archive, such as the border and cuff HLP/MOC/162 and four pieces of Maltese silk lace HLP/MOC/066, possibly part of a Cheval Set. All of these pieces were very expensive in their day.
The advent of machine made lace afforded the opportunity to the less well off to acquire lace, for example, the Lace Sleeves HLP/JC/082, Jabot HLP/BIC/145, and Bertha Collar HLP/BIC/149. As with all lace we have to acknowledge the people who designed the intricate patterns and those engineers who developed the machinery.
A lot of the pieces in the archive would have been considered "women's work", that is work done at home while rearing and caring for a family. It was undervalued, effort and skill required to execute it was not recognized. It was regarded as suitable work for women as it kept them at home and out of trouble, as echoed in the commonly heard phrase "The devil makes work for idle hands." Women made clothing, lace, knitted and crocheted and repaired damaged clothing for their families. Textiles and clothes were not discarded lightly and were remodelled for further use, for example, this damaged table runner HLP/PK/139 was used to practice darning on. Even damaged or threadbare pieces were not disposed. Lace collars were removed from clothing and added to new pieces HLP/BIC/150.
In the case of Headford Lace, lacemaking was carried out in the street outside the houses. In other places it was done in lace schools, which were very strict and sometimes cruel especially to small children. However the money earned by the lacemakers supplemented the family income and spared them from destitution. In 1835, 17 widows were living in houses belonging to the local landlord, Richard Mansergh St. George, rent free chiefly supported by lacemaking. Peddlers bought the lace at a low price so the women were not adequately rewarded for their efforts.
Needlework was regarded as a suitable pastime or hobby for upper class women and they gained proficiency in various techniques. It is worth noting that the Headford Lace industry was set up by Mary St. George, the natural or illegitimate daughter of Lord St. George, who went on to inherit his estate. She set about helping women to earn money independently in their homes. Subsequent generations of the St. George women continued this tradition of supporting the local lacemakers.
Each item in this archive comes with its individual material memory and captures the spirit of the person that made it or wore it. In my own case, I inherited a large embroidered peacock created by my grandmother. Although I never knew her, I have a strong connection to her through this exquisite handmade piece. This small motif of machine lace HLP/CH/017 was bought by the donor for her wedding dress in 1957. It was very expensive at the time and she could only afford enough for the front of the bodice. A dressmaker who worked for Nellie Mulcahy made the dress for her. This lace trim was once a part of a set of linen bloomers HLP/BW/079 worn by the donor when going out on the town in London in her youth. A fine piece of filet crochet trim for a tablecloth HLP/BIC/072 told the story of a sick grandfather being taught crochet during his convalescence.
Identity of place is echoed in this piece of Mountmellick Lace from the 1890s HLP/DD/081. It reflects the flowers and foliage from the local hedgerows, the embroidery stitches pay homage to the natural world. All the motifs in Mountmellick Lace are redolent with memory of place.
A number of beautiful examples of old Irish Crochet have been donated HLP/MOC/068, HLP/JT/071, HLP/PK/104 - HLP/PK/107 and have a rich decorative appearance. Many convents in Ireland set up crochet centres during the turbulent years of the 1840's.
Many other crochet items reflect what women were making in different decades. Some pieces are practice pieces done to perfect stitches prior to embarking on a bigger project.
Crochet items were essential for household decoration. This Coats Publication Book (No. 456) contains a myriad of different items for the maker using the pineapple stitch. It was first published in 1971 and must have been a popular, as a second edition was issued in 1982. An example of this is HLP/PK/109.
Old Favourites Crochet Book was published in 1969. Many of these items were used for special occasions e.g. afternoon tea and luncheon. See HLP/MK/011 for a tray cloth pattern.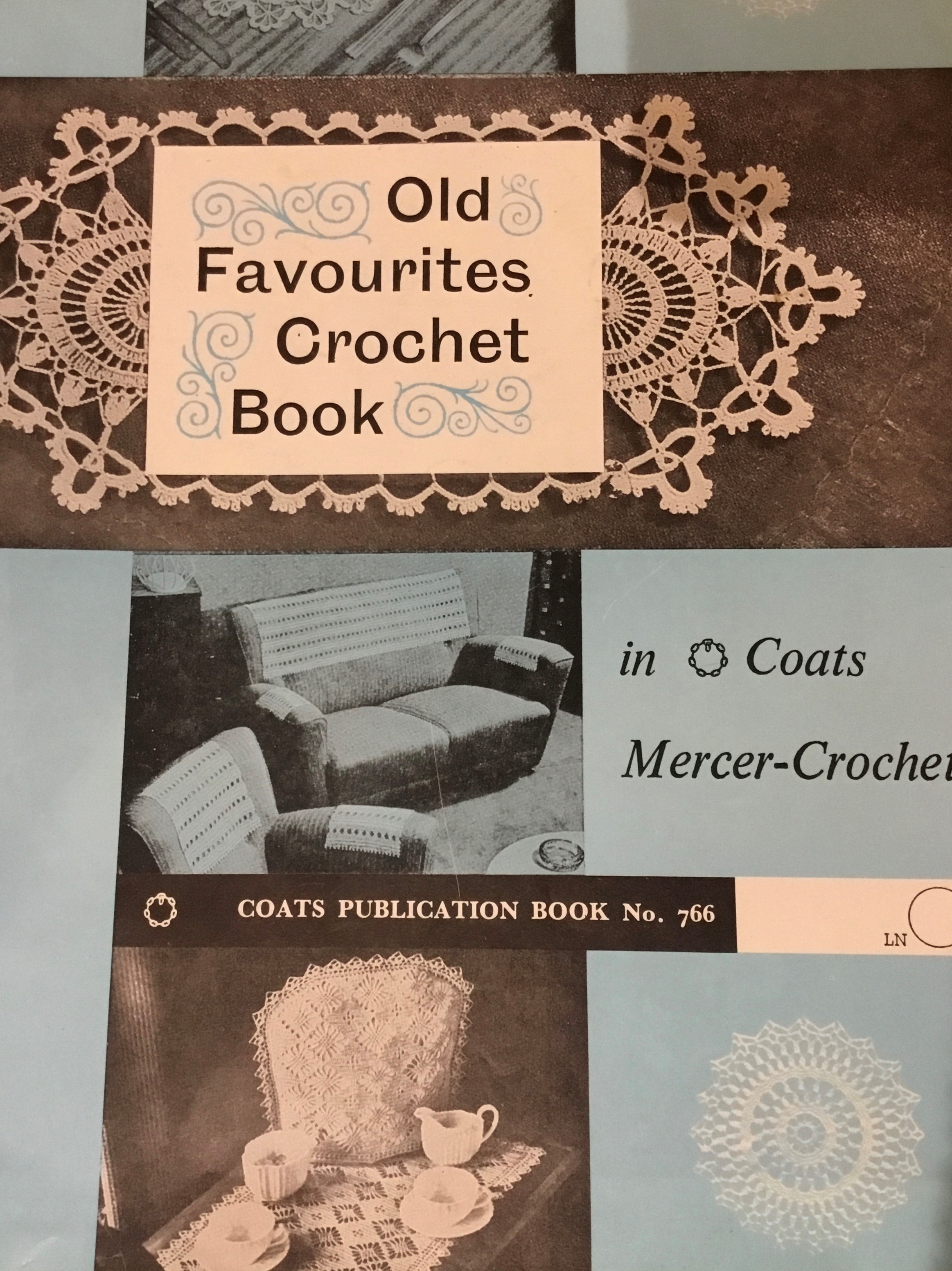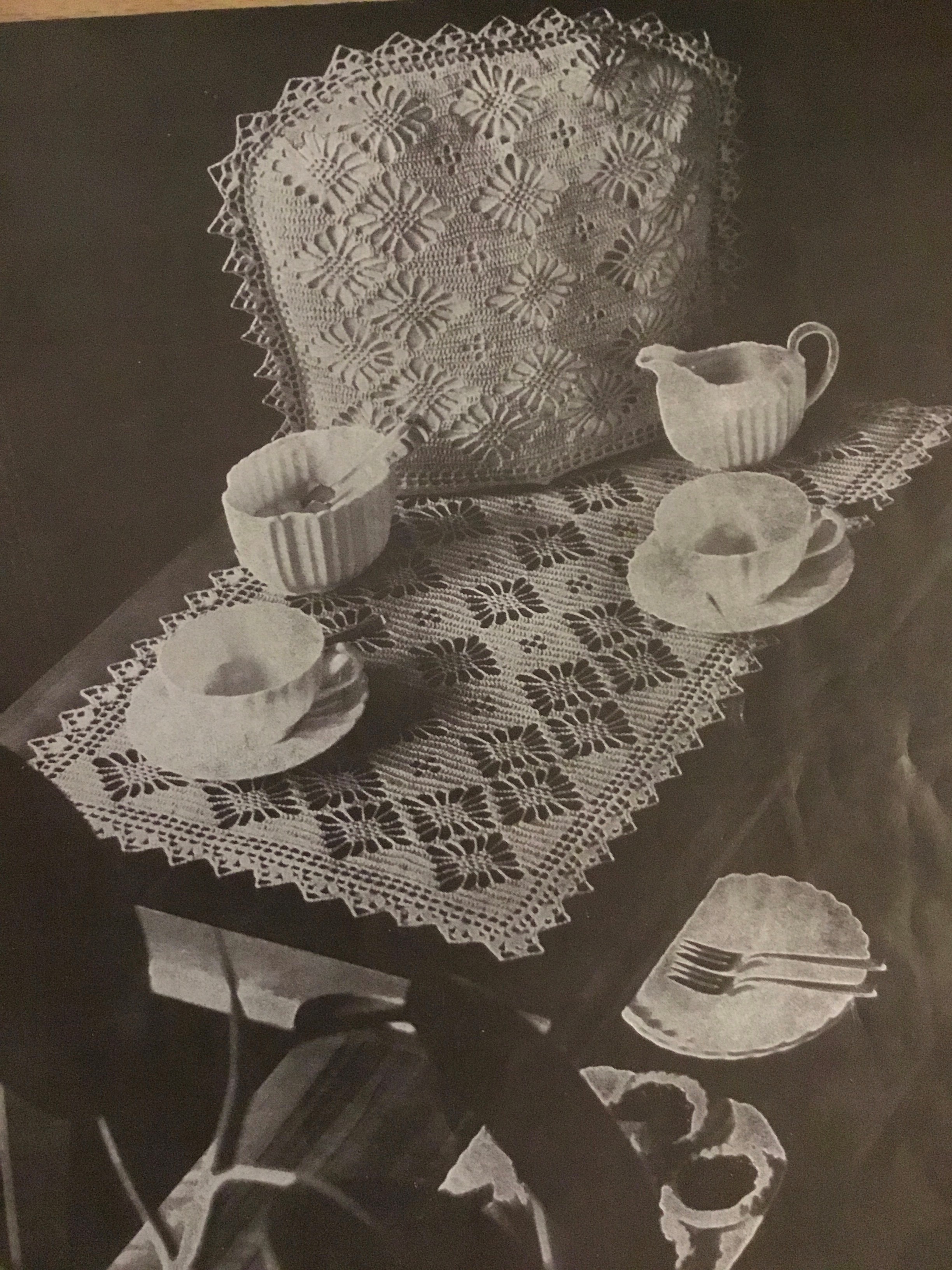 Some other items of interest in the archives are shoulder cape/stole a fashion item of the 1970s era HLP/GH/97, a pillow sham possibly used for wakes HLP/HLP/055 and filet crochet for a linen towel HLP/ BB/062.
We have a shared textural heritage with other countries as stitches were brought to other countries, new stitches learned and brought back to Ireland. This is seen in the crochet piece Irish Roses HLP/GVH/165 brought back recently from Brazil.
Headford Lace Project is very grateful to all of our donors, those people who have donated precious lace pieces and treasured family memories to our archive and trusted them to our project. The archive will continue to be a source of interest and fascination and a valuable educational aid. Our project is now interlaced with every piece in the archive, with the hands that made them, the people that used them and the people that wore them.
If you would like to get in touch about a piece of family lace history, please contact us. Please note, that the pieces in our archive have been identified and labeled to the best of our knowledge, we welcome advice or correction if something has been identified incorrectly.
Headford Lace Project: Lace Archive Scope and Content
The Headford Lace Project was started as a result of the discovery of a history lacemaking in the town by Selma Makela, an artist living locally.This came to light during the Nesting Lark Event Festival in 2016. Up until that point the history of bobbin lacemaking in Headford was largely forgotten. This unique history can be traced back to the mid 1700s. The Headford Lace Project has three main aims: to research, revive and reimagine Headford Lace. It has now reintroduced the skills of lacemaking into the community through classes which has reignited an interest in this history. It hopes to advance the education of the public in this respect through community engagement projects.
The word ' lace' is derived from the Latin laqueus meaning a noose, a noose being a hole outlined by a rope, string or thread. It is formed by the looping, plaiting, twisting or knotting of threads. The Headford Lace Project Lace Samples Archive is comprised of a variety of pieces of lace donated by individuals to the project. Some hand done and some machine made. These actual pieces are used for display purposes at Headford Lace Project events. They help to illustrate the different types of lace and are a valuable educational resource for students and the general public. They are now available to a wider audience in this digital format.
To date the Headford Lace Project has access to one original piece of Headford Lace dating back to 1904.It is hoped that some further pieces of Headford Lace will be found through community interaction. We are grateful to members of the public for all the donations to the archive.
Headford Lace Project Lace Archive
Reference code - HLP/2017
Title - Headford Lace Project Samples Archive
Name of Creator - Ger Henry Hassett, Headford Lace Project
Dates of creation- 21 June 2017 -
Extent of Unit Description - 171 photographs+
Level of Description - Lace items both handmade and machine made, linen fabric