Music Composition with Headford Music Works

Summer 2019 sees a new and exciting collaboration in Headford, Co. Galway as Headford Lace Project works with Headford Music Works to produce a new orchestral piece inspired by the heritage of lace making in the town. Students of Headford Music Works with take a famous Irish air called Molly St George, which was written about one of the original patrons of the Lace industry in Headford. They will take the component parts and interweave them similar to the bobbins crossing and twisting in the lace-making process. The project began this week with the HMW summer school being visited by members of the Headford Lace Project committee who showed students bobbins, pillows, and basic stitches to help their understanding of the process.
The project will culminate in a performance of the newly composed piece at an evening of celebration of Lace in Headford in late September.
Galway 2020 European Capital of Culture - Small Towns, Big Ideas

From over 150 applicants, 52 successful Small Towns Big Ideas projects were announced this week. Headford Lace Project is extremely honored to be chosen to represent Headford and Irish Lace in this amazing project.
HEADFORD LACE: THREADS OF CONNECTION
The Headford Lace Project seeks to revive Headford's lacemaking heritage and contribute to the vibrant cultural life of Headford, by bringing the story of lace to life for a new generation and placing Headford firmly on the map locally, nationally and internationally.
We are delighted to have the opportunity to create a permanent artwork for Headford in collaboration with artist, Róisín De Buitléar and supported by Galway 2020.
Headford Lace Garden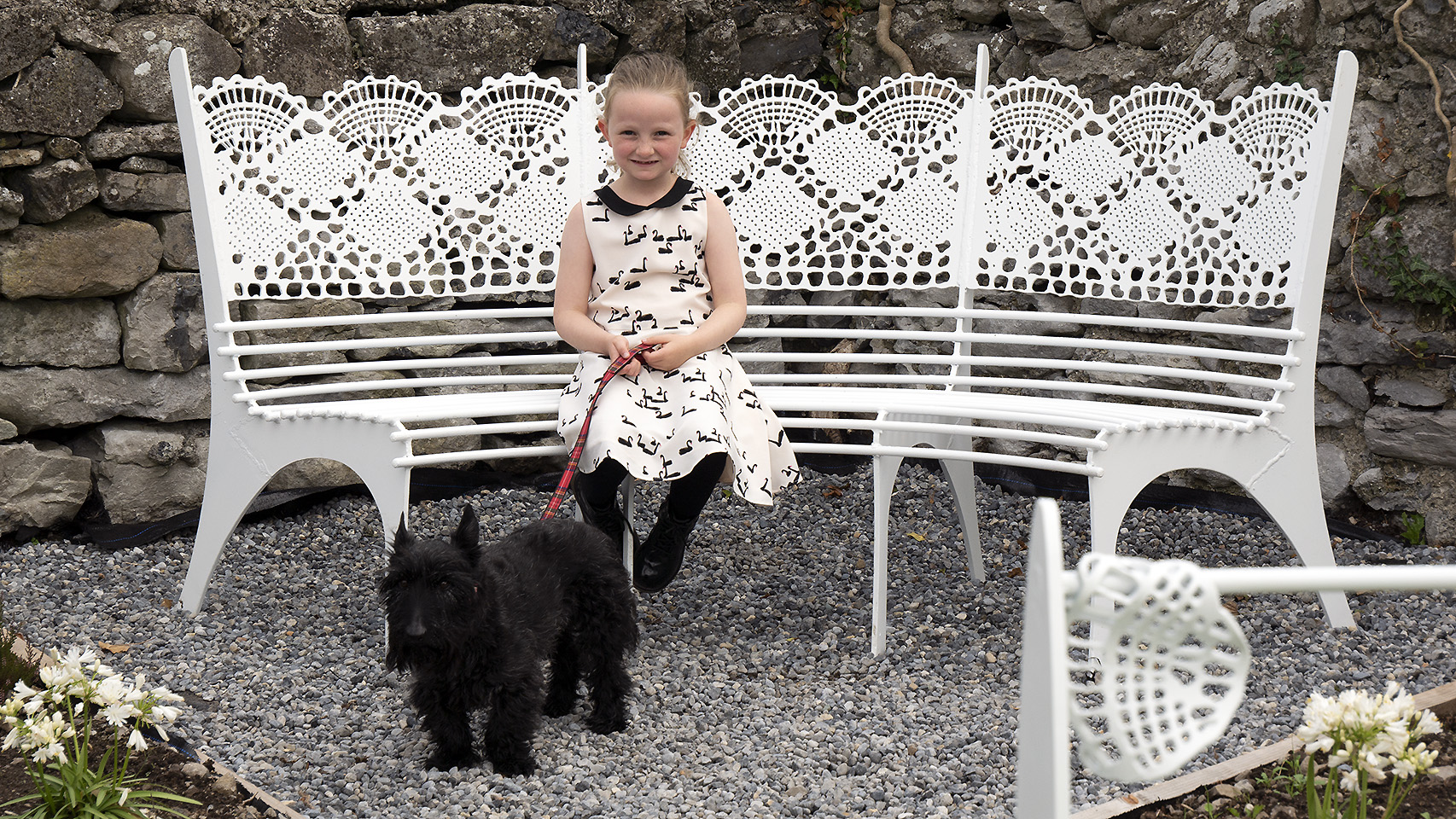 Headford Lace Project in collaboration with Headford Environment Group has established a Lace Garden at the Community Orchard. The Environment Group planted a lace-inspired garden of white flowering plants surrounded by a fence made of lace-bobbin shaped posts, and Headford Lace Project commissioned a park bench, the design of which is inspired by Headford Lace. Both the bench and fence were produced by Kilkee Forge. The Headford Lace bench was made possible thanks to funding from Galway County Council Facilities Scheme, prize money received by Headford Lace Project for winning the Tidy Towns Heritage Award (2017), and labour provided by the Rural Social Scheme.
Heritage Signs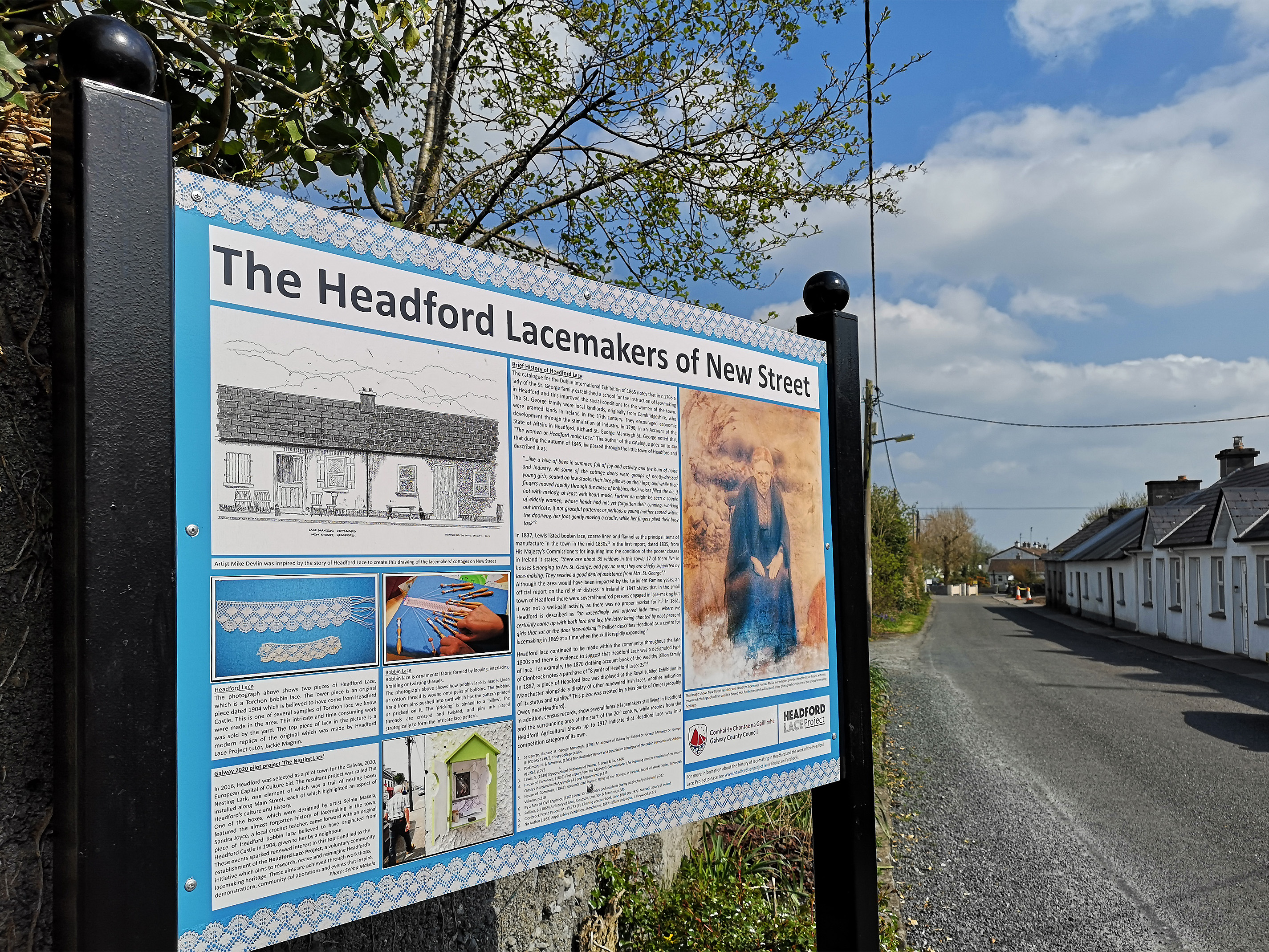 Headford Lace Project has been instrumental in the instalment of heritage signs around the town. We collaborated with the Headford Environment Group for one at the Community Orchard. We also installed this one on New Street, where many of the original lacemakers once lived. This was achieved with support from Galway County Council Heritage Office under the Community Support Scheme.
World Lace Congress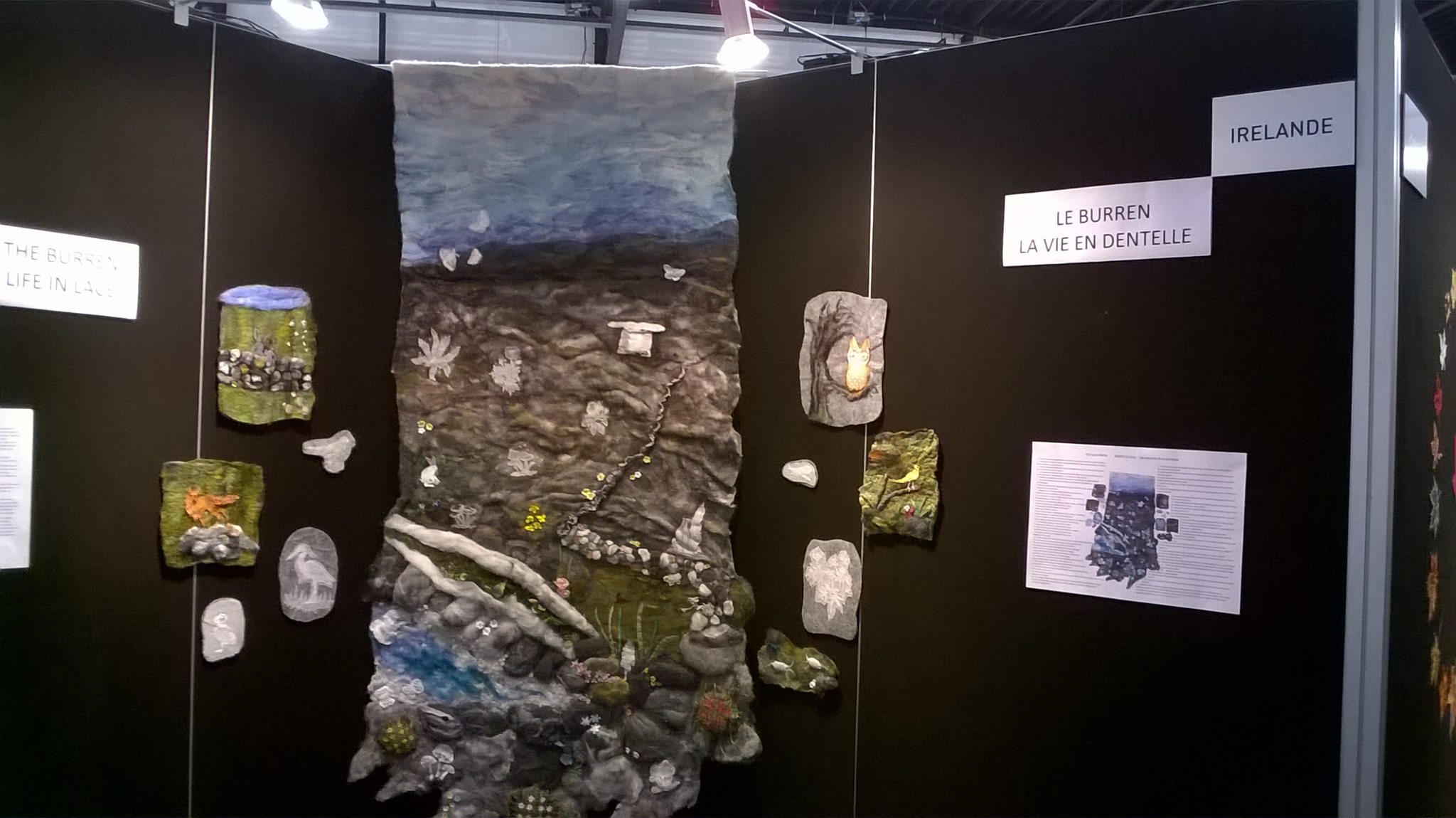 Headford Lace Project members Norma Owens and Jackie Magnin created pieces of Headford Lace which were included in the Guild of Irish Lacemakers' presentation at the World Lace Congress in Zaandam, The Netherlands.
Headford Lace Inspired Printed Silk Scarf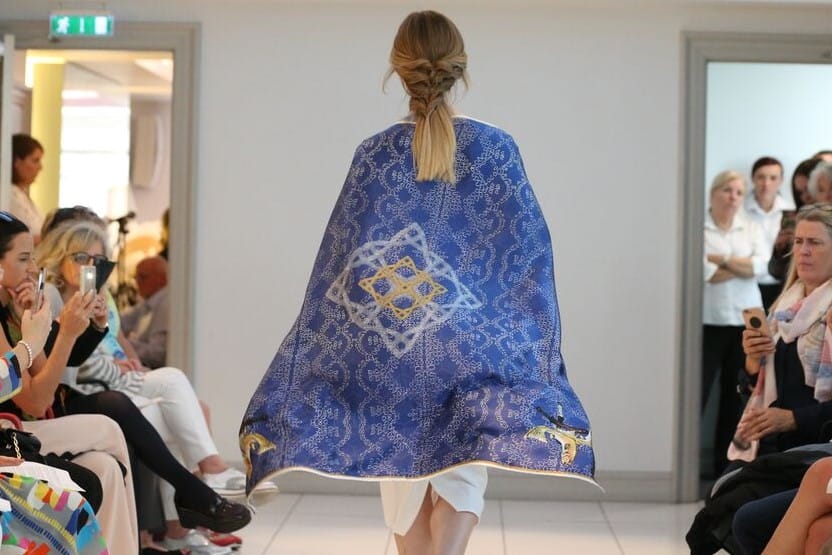 Under the auspices of the Design & Crafts Council of Ireland and the Council of Irish Fashion Designers, Headford Lace Project was delighted to collaborate with Galway designer Niamh Daniels.
Headford Lace Song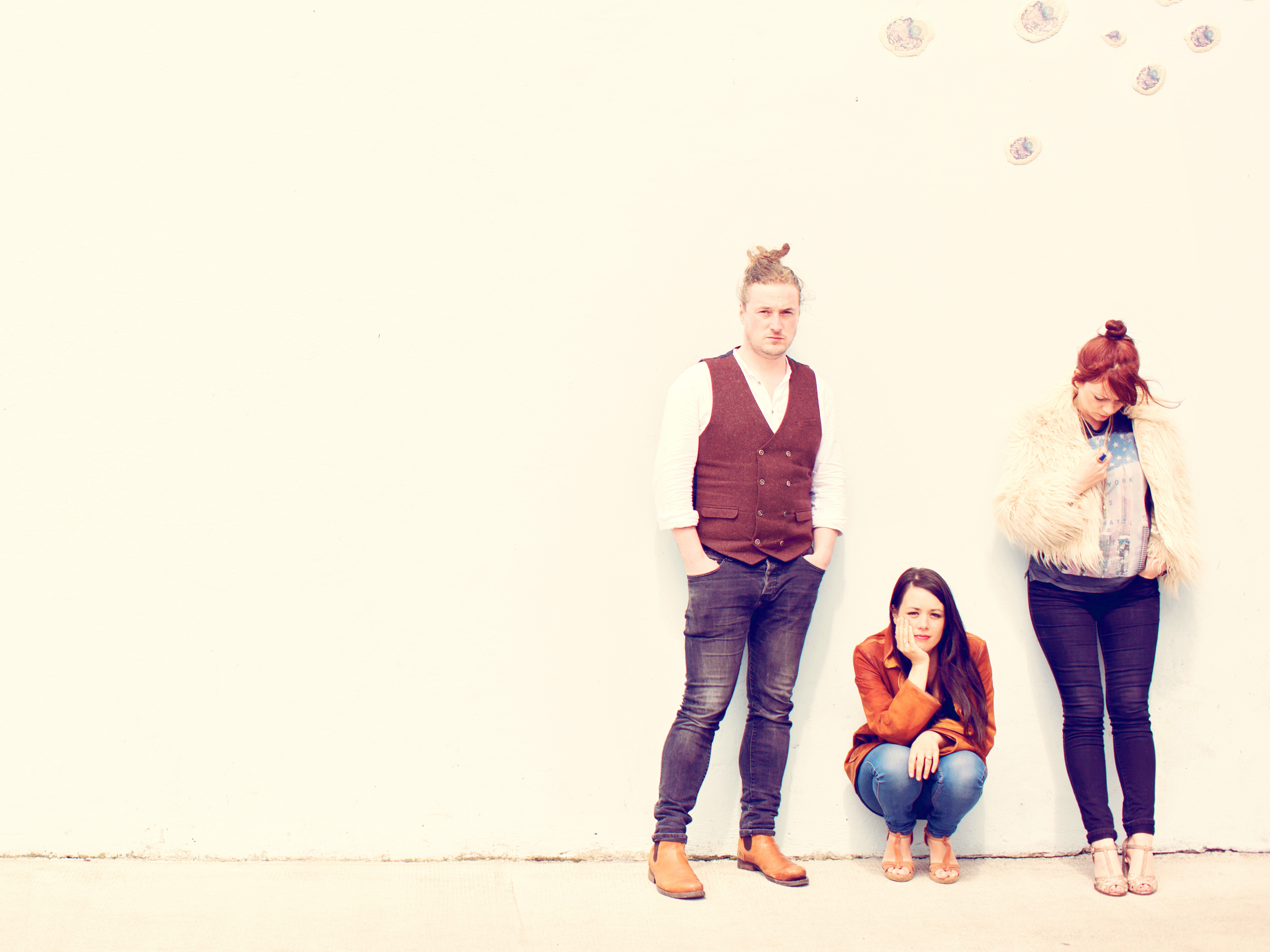 Headford Lace Project is in collaboration with local songwriters and musicians, The Whileaways, to compose a song inspired by Headford Lace to bring the memory of our local lacemakers back into the public consciousness.
Collaboration with Men's Shed & Local Master Woodturner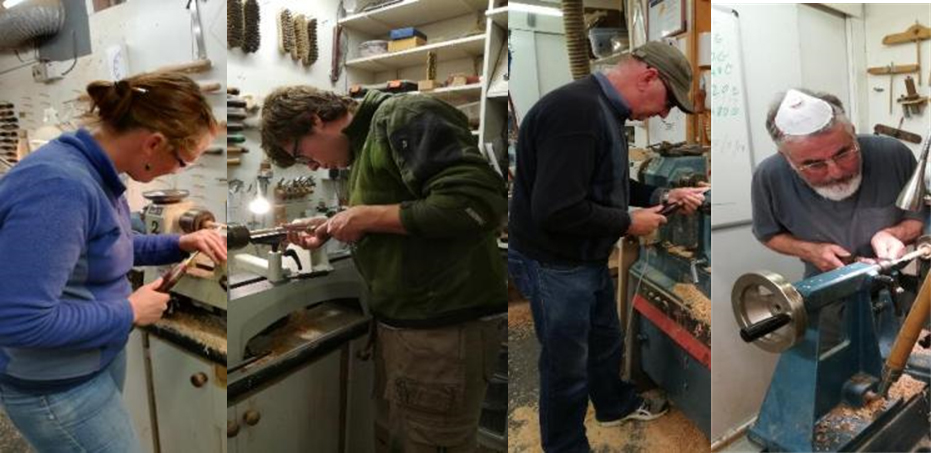 Headford Lace Project collaborated with the local Men's Shed and local master woodturner, Ambrose O'Halloran, to run a workshop on turning wooden lace bobbins.