Easter is synonymous with bonnets and I have decided to write about three bonnets in our archive.
HLP/RDB/99. A Baby's Bonnet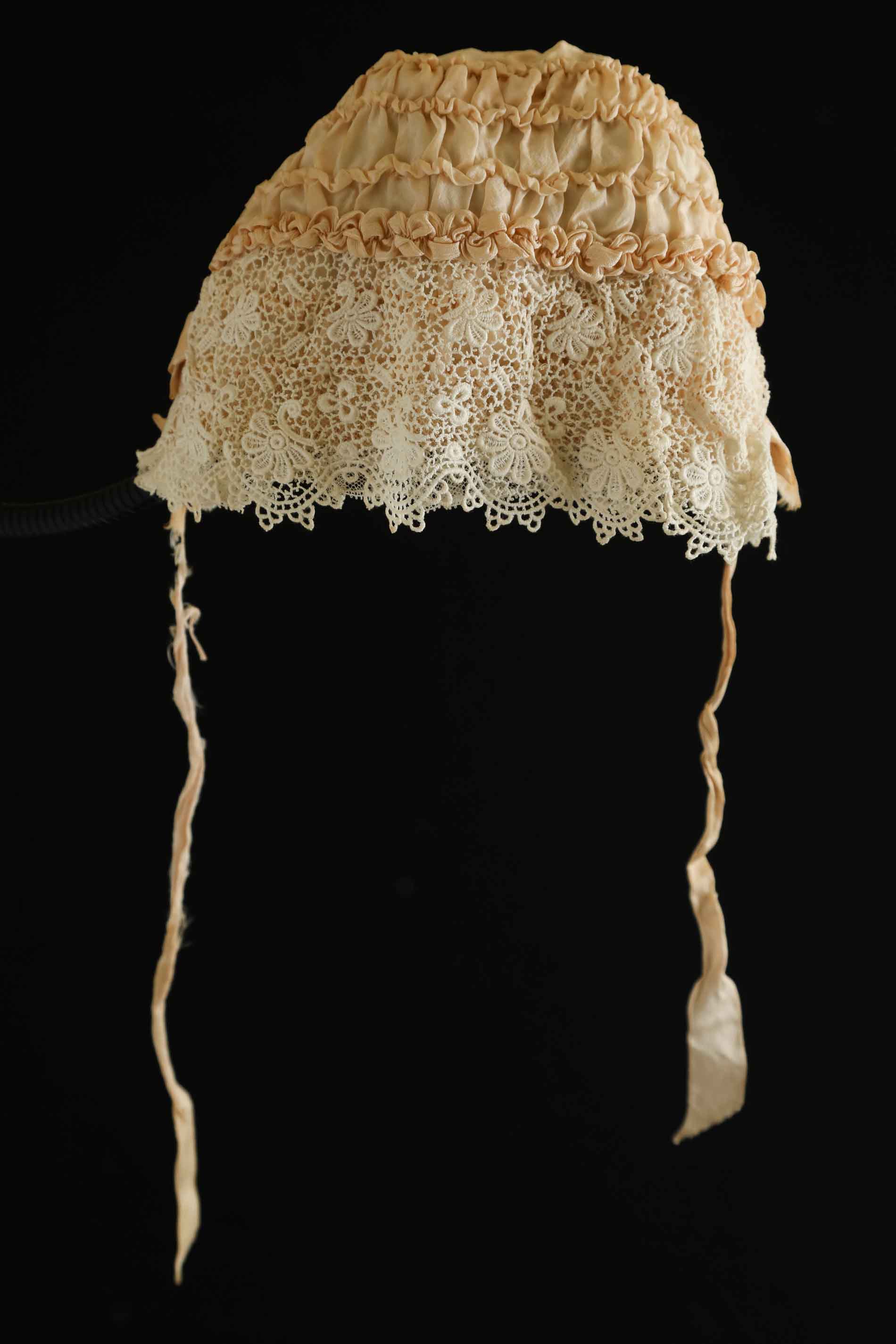 A beautiful bonnet, very delicate and skilfully handmade. The unknown maker chose a very pale peach silk fabric, peach silk ribbons and embellished it with ribbon pleating and a bow placed to each side. A handmade bobbin lace floral motif was stitched on the rear and the base was trimmed with two layers of machine net. The brim also has two layers of net overlaid with floral machine lace. I feel this bonnet was made with love for a special baby.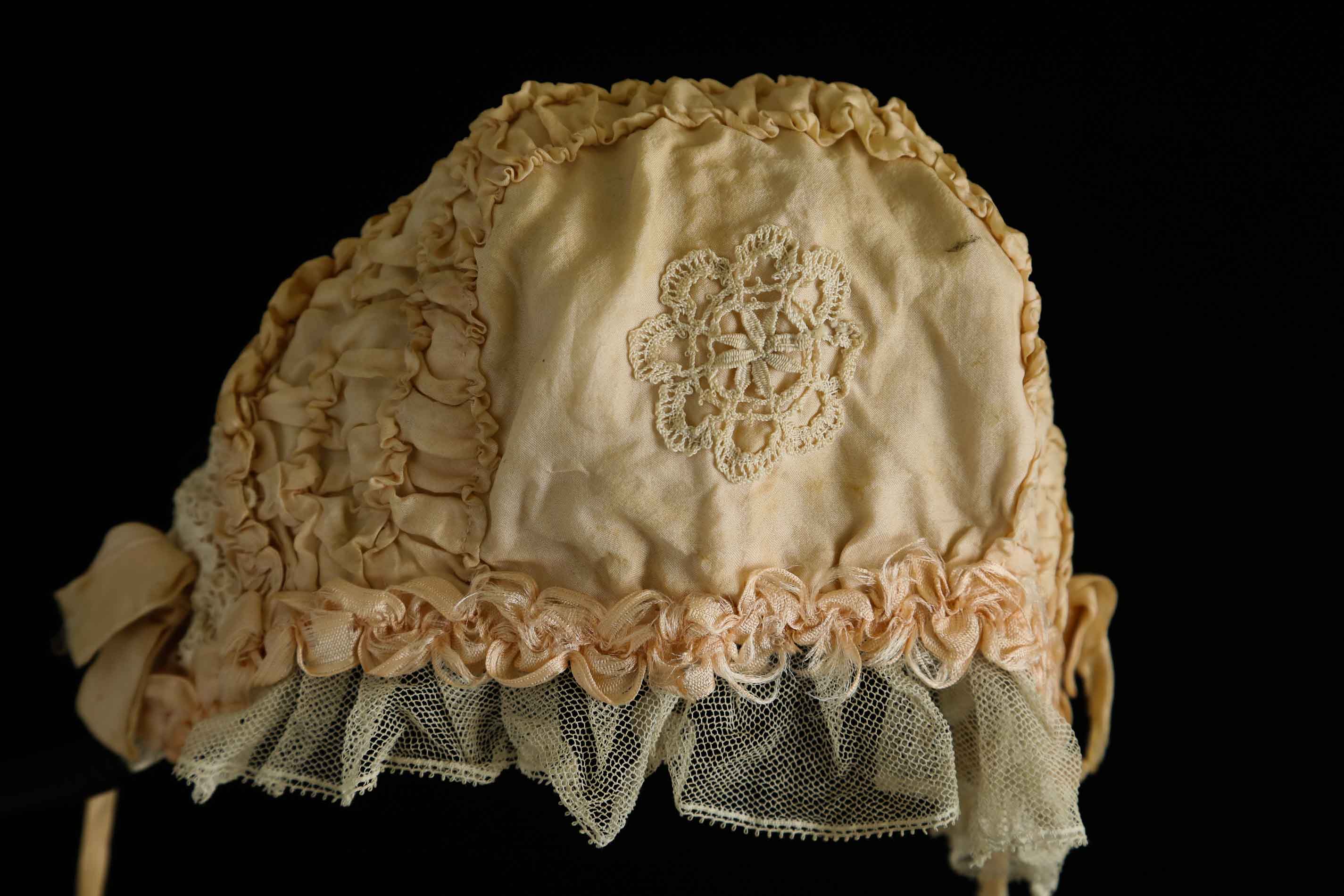 This bonnet was donated to the HLP Lace Archive by artist, Róisín de Buitléar. Róisín bought the bonnet in France, from a woman at a market stall. It was part of the sellers grandmother's collection who was a lace maker and had worked in many different kinds of lace. The bonnet was being sold as part of a house clearance.The seller was from Languedoc, the southern region of France however her grandmother was Spanish. Perhaps this is where the lacemaking tradition came from. Unfortunately the seller did not know who made the bonnet or who the recipient was. A mystery will always surround this bonnet, the hands that made it and the baby that wore it. A treasured handmade item of the project archive.
HLP/CH/143. Ann Higgins Bonnet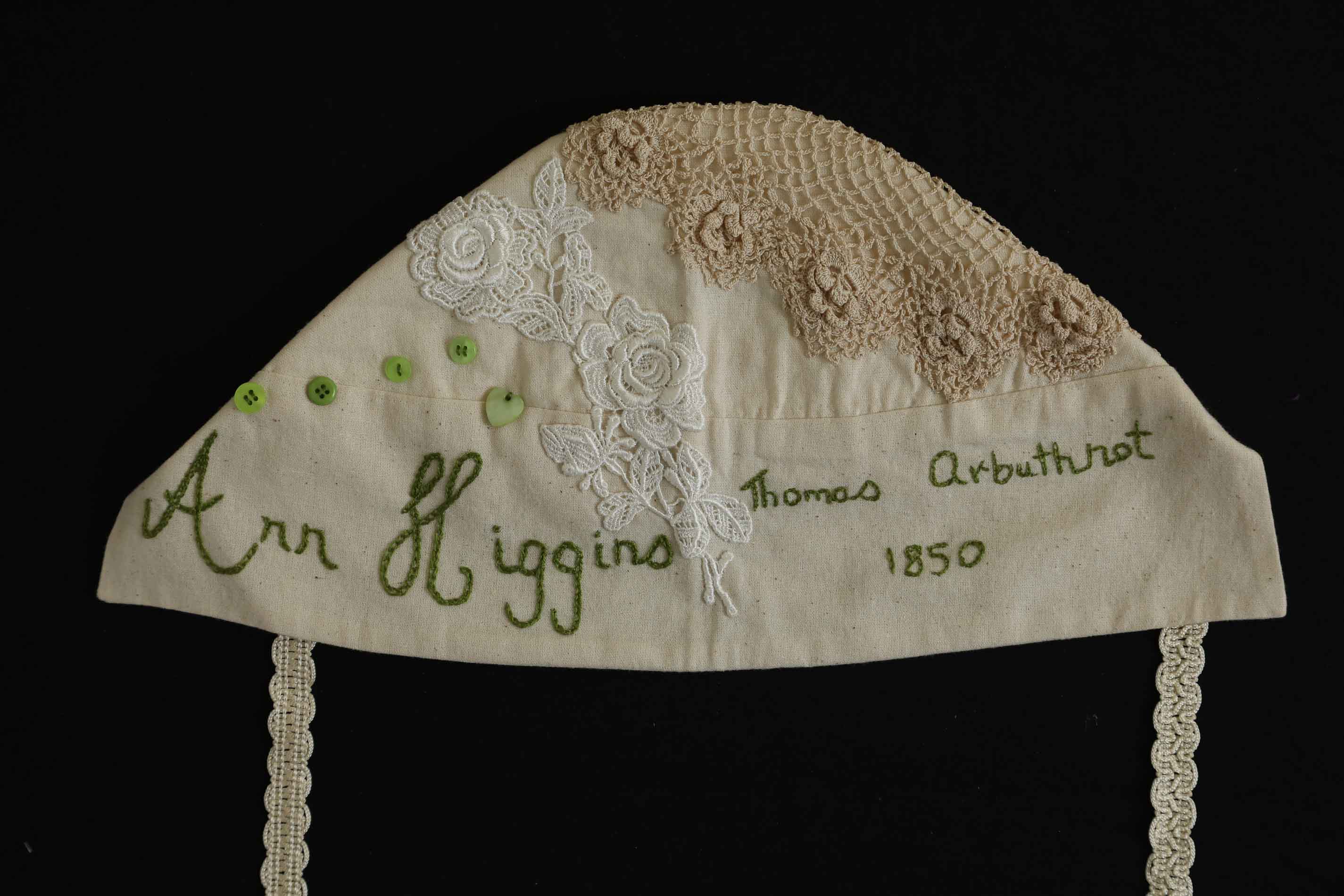 In August 2018, Headford Lace Project embarked on a collaboration with Tasmanian Artist, Dr. Christina Henri on her bonnet projects which honour the memory of all the women who were transported 'Roses from the Heart' project or given 'Assisted Passage' 'Irish Roses, Bride Ship Lasses' project to Australia in the mid 1800s. Dr. Christina Henri uses the symbol of a colonial servant's bonnet to remember these women.
Christina presented Ireland's, Mrs Sabina Higgins First Lady with a bonnet remembering Ann Higgins and also one to The Headford Lace Project. These bonnets are symbolic of one of the Orphan Girls who was given 'Assisted Passage' out to Australia as part of the Earl Grey Scheme (1848-1850). The presentation took place at the Headford Lace Project event, Lace Notes and Other Stories concert at the St Fursa's Hall, Headford, Galway, 21 September 2019.
Christina stated that "the bonnet, a token to Ann's life, was begun in Tasmania and embellished in Headford, Ireland. This bonnet was created whilst I was collaborating with the Headford Lace Project to showcase my work on Transported Women and Orphan Girls – groups of women who left Ireland's shores bound for Australia. A number of these women were lace makers. Ann Higgins sailed aboard the Thomas Arbuthnot to Sydney, New South wales in 1850. Ann's parents, Thomas and Alicia, had both died. Ann was a Roman Catholic and just 16 years of age when she boarded ship. Plucked from the Workhouse, Ann's future would have either been the unthinkable 'leaving by the back door' – burial in a recyclable coffin, or the choice of sailing to a far off land as part of an Assisted Passage Scheme".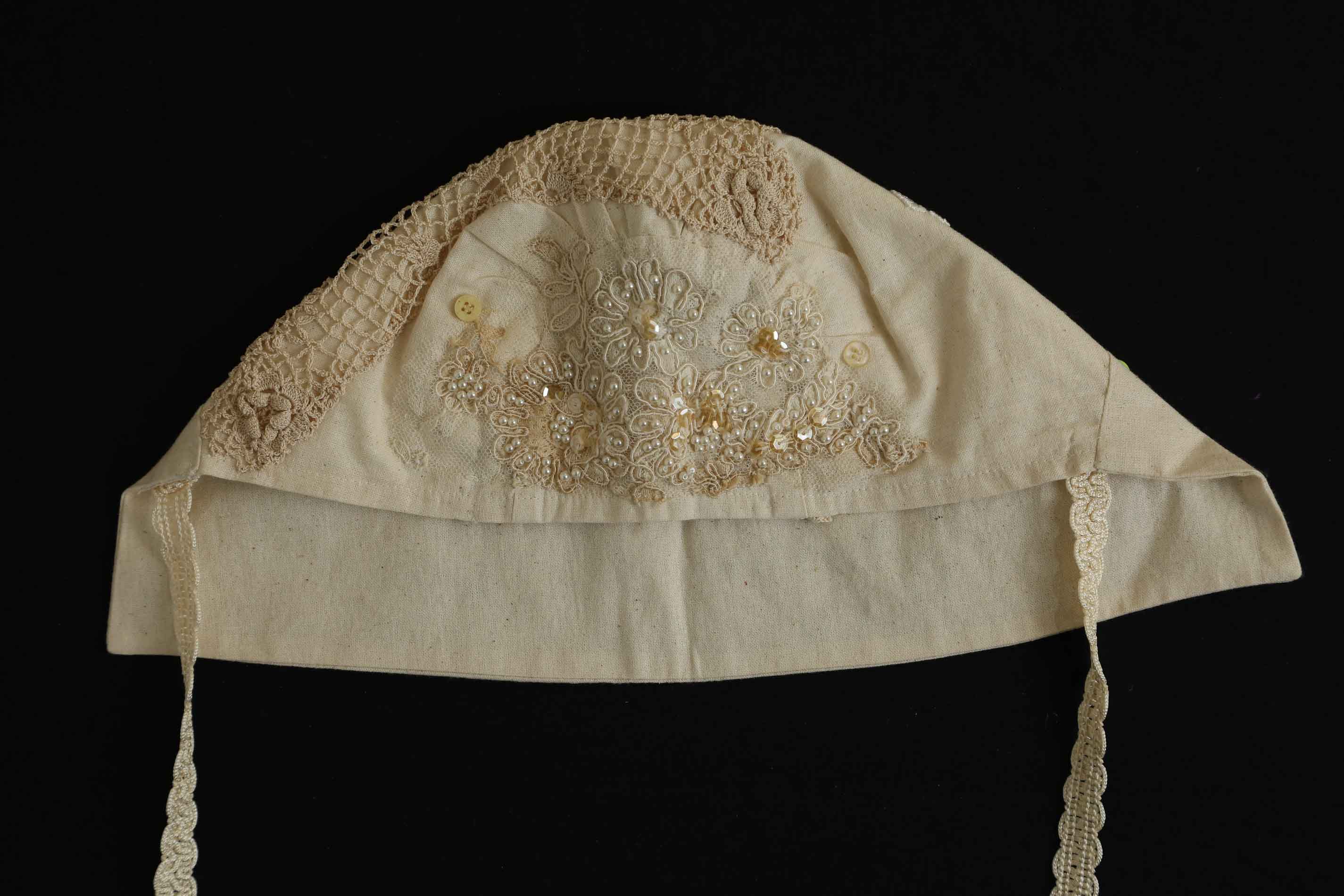 In decorating the bonnet Christina said that " Ann's bonnet tribute is adorned with green (buttons and thread) chosen as a reminder of the verdant Irish landscape and the green of the symbolic shamrock and in reference to the colour of the Gaelic, Catholic political order. The bonnet is created from calico, a fabric in memory of Ann's early life. It is embellished with an ecru coloured piece of Irish Crochet with rose motifs and a beautiful piece of wedding lace encrusted with pearls and sequences. Inside the rear panel I stitched a old piece of linen embroidered with a floral pattern and edged with crochet".
This bonnet is a symbol of an emotional journey for all these women, taken from their homeland to a new life in a strange continent. It was also emotional journey for the Headford Lace Project and the many participants in our bonnet decorating workshops as the forgotten history of these women unfolded. 4,114 women left Irish Workhouses for Australia. We discovered 13 girls from Headford who left under this scheme and this year have added two more to the list. Ann Higgins bonnet is a lasting material memory of this collaboration with Dr. Christina Henri.
HLP/GH/144. Joshua's Christening Bonnet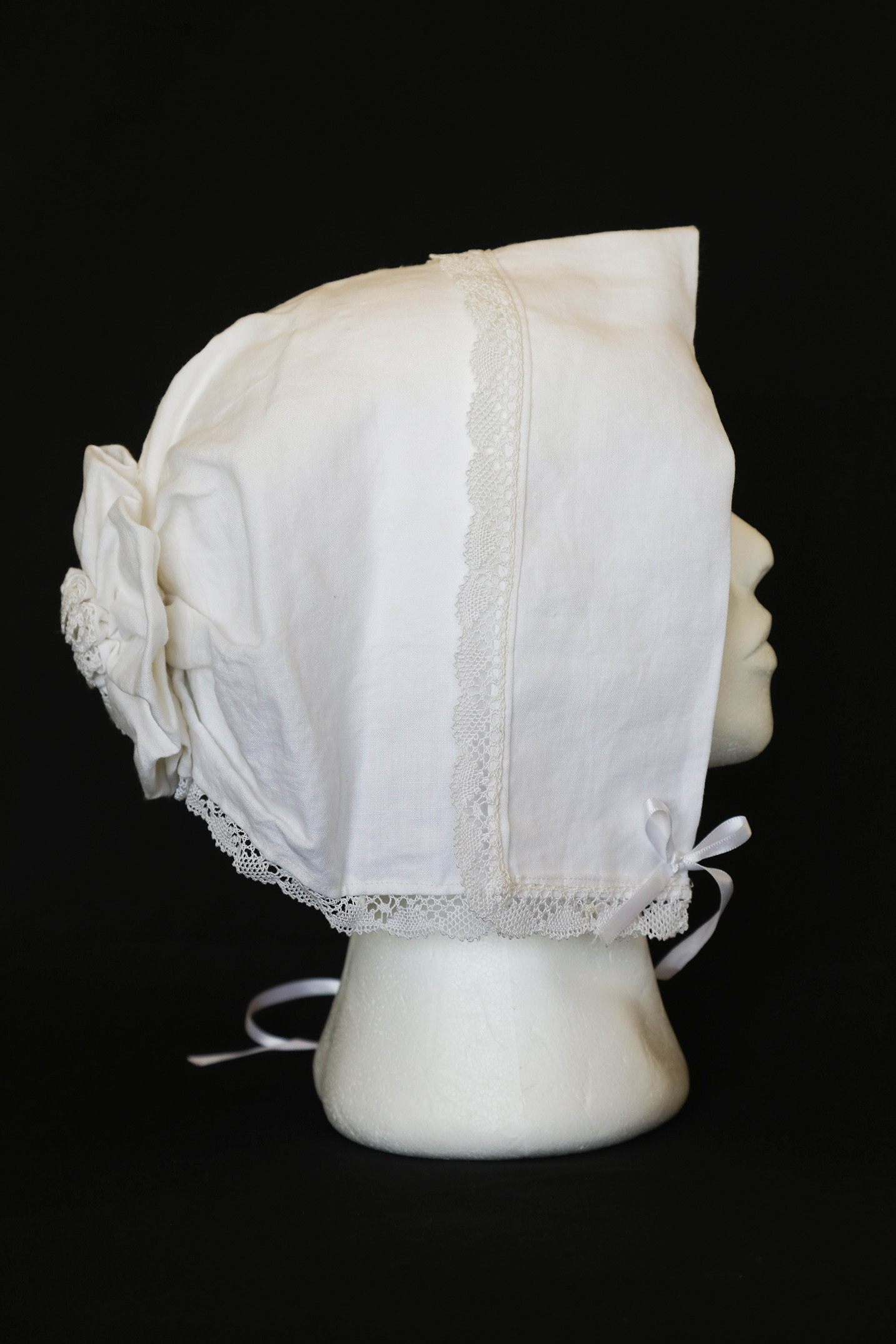 When Jackie Magnin, lace tutor, became aware that committee member Giulliana's 40th Birthday was going to be celebrated in 2018 she felt that a piece of bobbin lace would make a rather nice present. "As Giulliana is full of enthusiasm, always friendly and willing to help out I felt I wanted to give her a special present. I decided to make a metre length of bobbin lace for her to do with whatever she wished", said Jackie. She based the design loosely in the Headford Lace Pattern, a bit narrower and with a few variations to make it more interesting.
Giulliana Victor Harte's story is one of emigration, from Brazil to Ireland. In 2014, she settled in Caherlistrane outside Headford. She found this a lonely and isolating experience for her first two years in Ireland. Then one day, 'I found a stray dog and this lead me to meeting Ester, Textile Artist and committee member. She asked me if I would like to be part of the Headford Lace Project. This event changed my life completely. Ester invited me to Culture Night and from then on I became involved in the community, connected with people and now have a sense of belonging. I was expecting my second child during the second year of The Headford Lace Project. Joshua who was born on 1/8/17 became 'our lace baby'. I asked Ester if she would make a christening bonnet for Joshua and incorporate the piece of Headford Lace that Jackie had made.
Ester inspiration came from an Irish linen and lace bonnet, which was very popular with tourists in a shop where she worked as a young student. It was made from a hankie that was fashioned into a bonnet, so that it could be worn for a christening but also kept as a keepsake, for the child to later honour the tradition of wearing 'something old' on their wedding day. Ester set about making the bonnet, "I hemmed a linen square which was sized so that the full length of lace would trim it exactly without having to cut it. The square is loosely stitched into a bonnet shape so that it can be easily unpicked and repurposed at a future date".
Joshua's christening was an amazing day as he became the first baby in over 100 years, that we know of, to wear Headford Lace on his bonnet, creating a proud moment for his family, the lacemaker Jackie, the creator Ester and Headford Lace Project
Giulliana was aware of bobbin lacemaking in Brazil. She has since formed links with Brazilian Lacemakers Rendeiras da Vila, Natal - Rio Grande do Norte. She did a chat video live on Instagram with this amazing group who are also preserving their lace heritage and skills.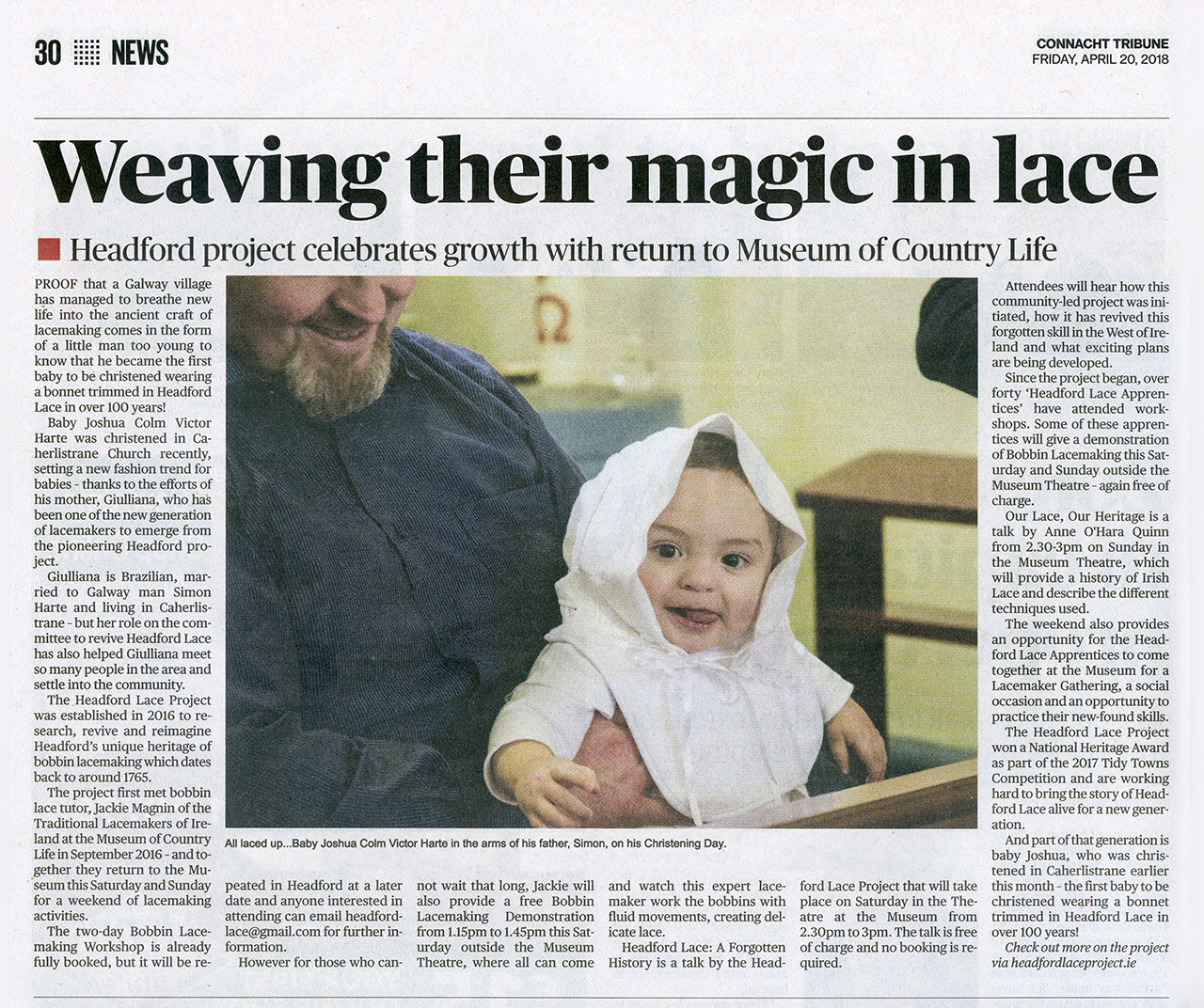 Connacht Tribune, 20 Apr. 2018.