St. Patrick's Day, Our National Emblems in Lace
The official state emblems of Ireland are the harp and the shamrock. In 1726, Caleb Threlkeld remarks in his publication on Irish flora that "The plant is worn by the People in their hats upon 17.Day of March yearly, (which is called St. Patrick's Day.) It being a Current Tradition, that by this Three Leafed Grass, he emblematically set forth to them the mystery of the Holy Trinity." In reviewing the archive, the shamrock was a popular motif in lacemaking patterns and I discovered many examples of its use. I have chosen the following pieces:
HLP/MOC/068 - An Irish crochet pointed collar. A trefoil shamrock motif.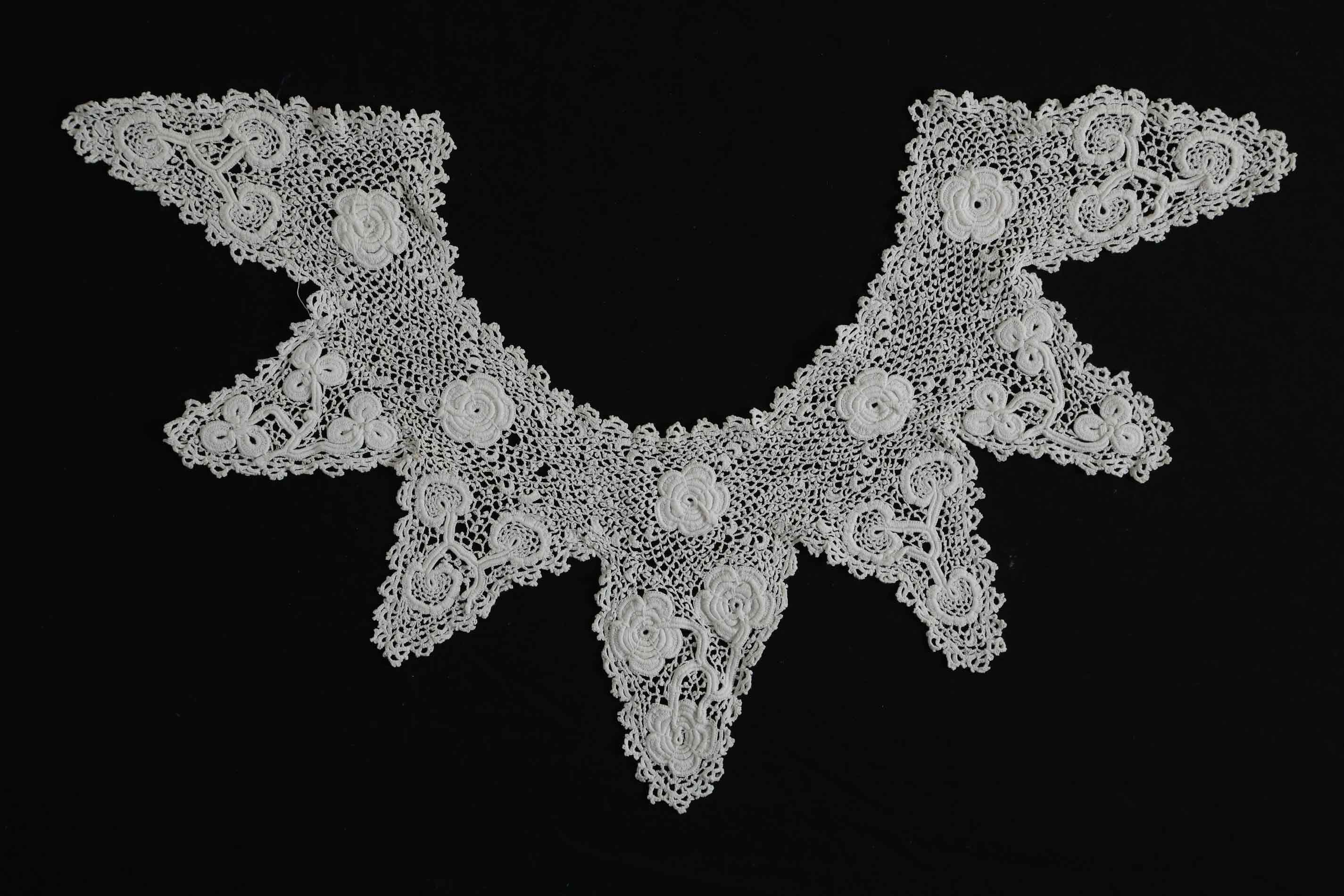 HLP/MOC/072 - Glengarriff Lace Collar. This collar was among a number of items donated to the project by a lady who was brought up in Scull, West Cork. She believes that her mother bought them at an auction. Veronica Stuart of the Traditional Lacemakers of Ireland identified the collar for HLP as Glengarriff Lace, which is a Limerick Tambour style. It is characterised by the looped edge stitch and has very nice shamrock motifs with filling stitches. Glengarriff was a popular honeymoon destination for Irish couples in the past. The collar was a favoured purchase by husbands for their new brides folllowing the wedding. Glengarriff is on the Cork Lace Trail.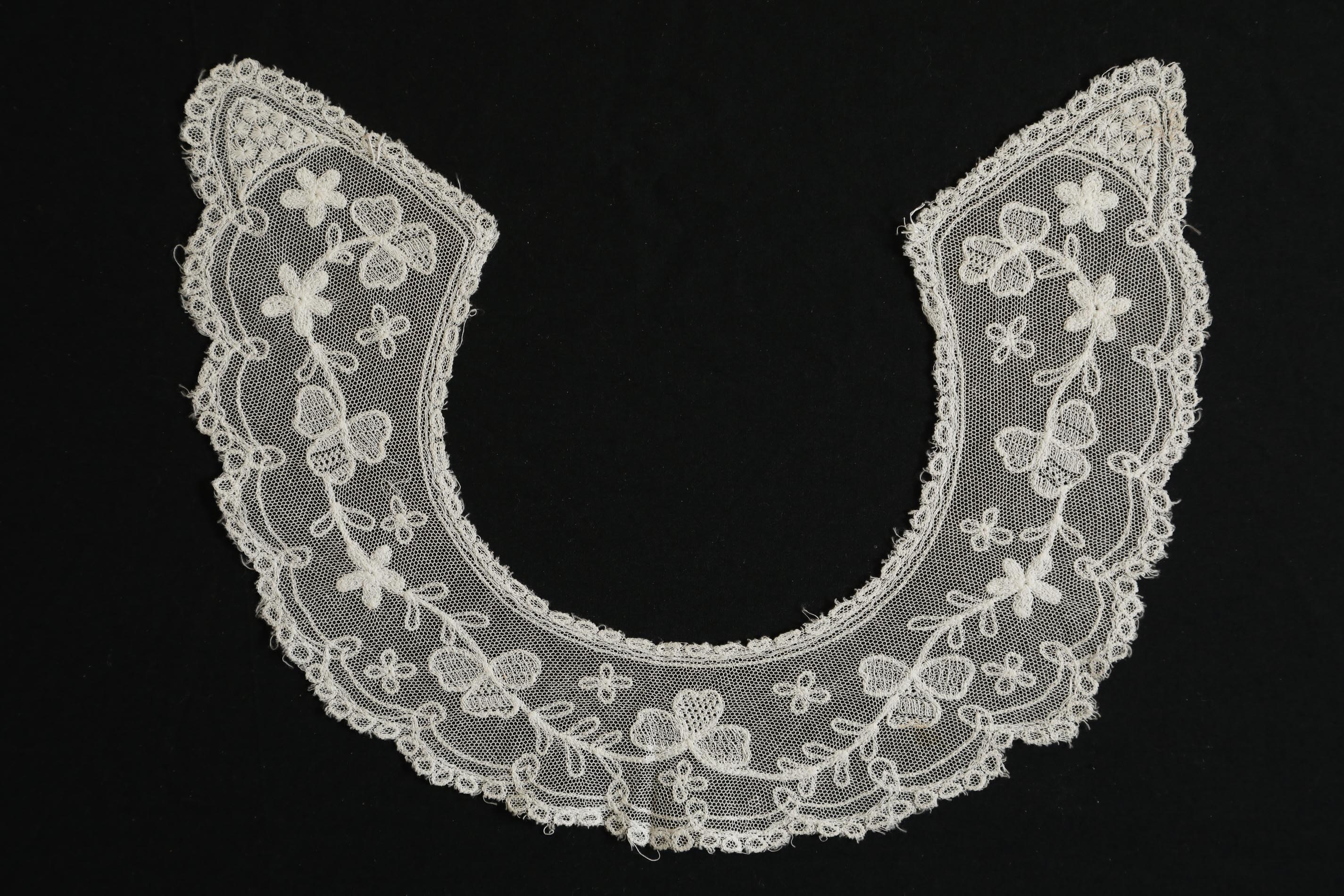 HLP/MOC/081 - A very fine example of Mountmellick Work. White on white embroidery using white cotton thread on jean fabric. This piece was dated to c1890s and was donated to the project by Dolores Dempsey, Mountmellick. The two shamrocks are worked with buttonhole and bullion stitch.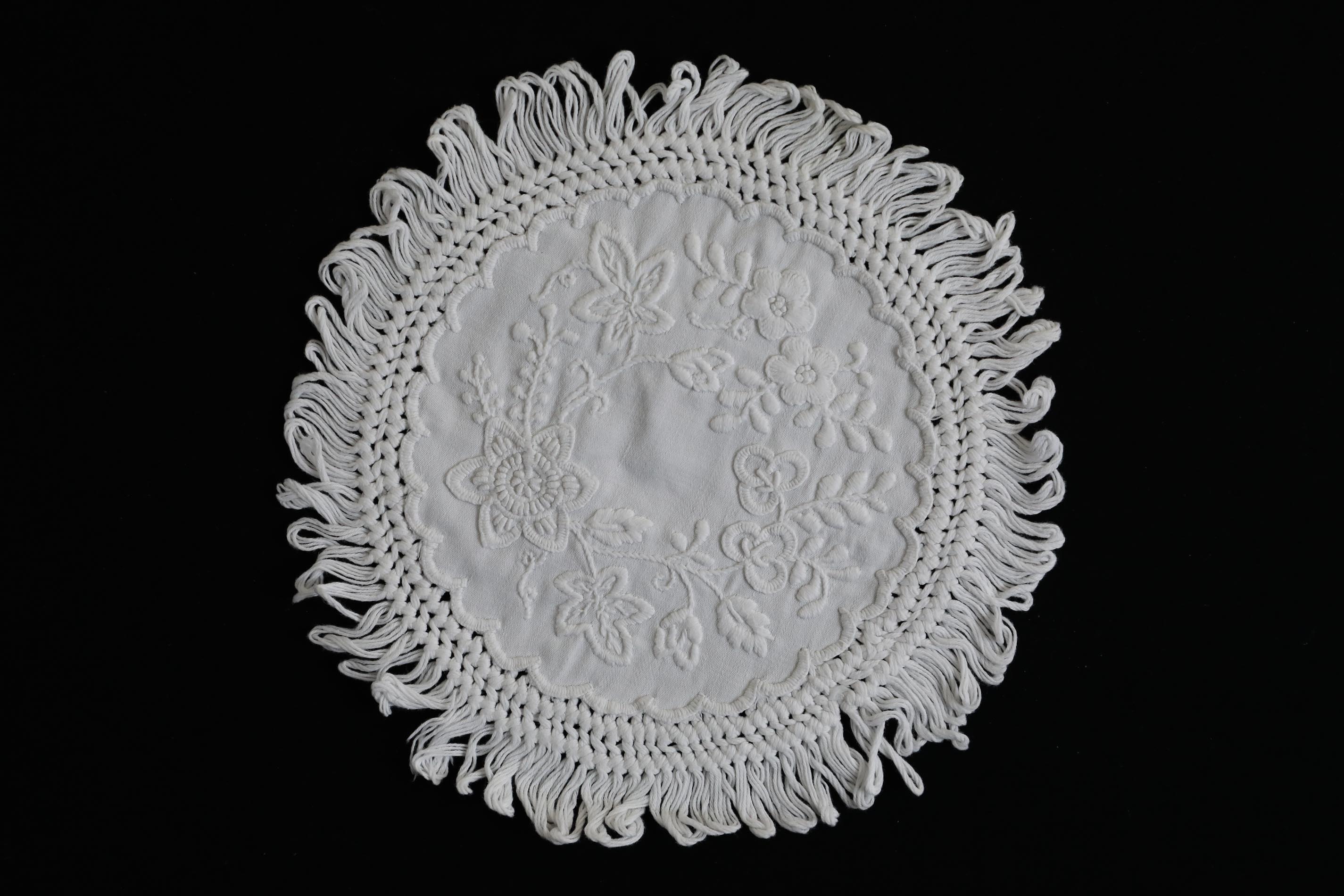 Carrickmacross Guipure Lace, HLP/SMC/158, HLP/SMC/159 (both the same) - These beautiful strips of Carrickmacross Guipure Lace were donated to our archive by an American friend of our project. Their dimensions are 134cm x 11cm. This type of lacemaking was taught at the Lace School in Culloville, South Armagh. Rosie Bell from the South Armagh Lace Collective explained the nature of this painstaking work, and how it demanded a very high level of skill. Nature was the inspiration for many of the floral patterns. The filling stitches were influenced by what the women saw around them e.g. Pheasant's eye, roaches eye, cobwebs, etc. The shamrock is a common motif and was particularly prominent around the Celtic revival period. It is used to great effect in these pieces with embossed pops.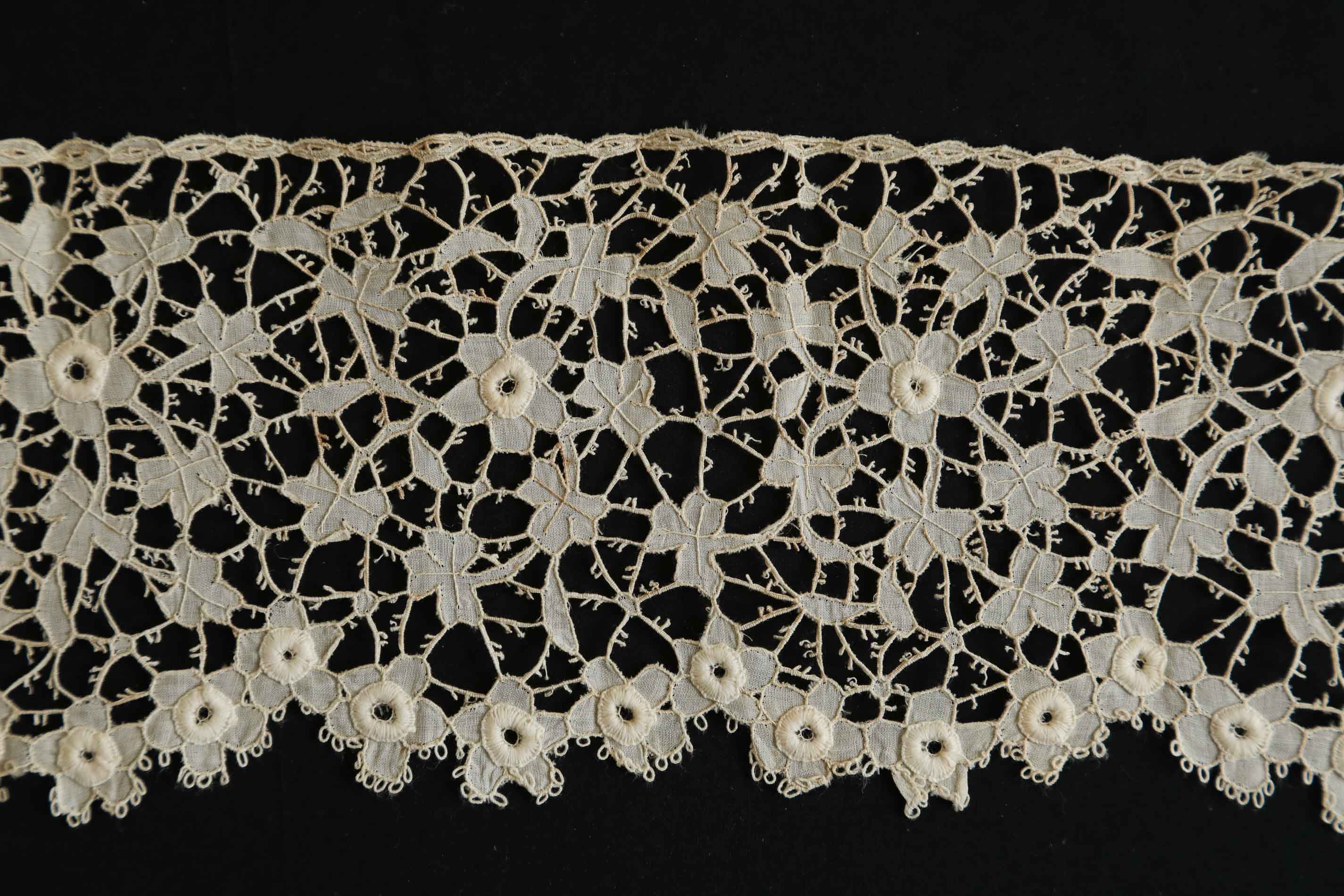 HLP/BB/062 - This piece of filet crochet came from a charity shop. It has a 'M' monogram with shamrock motifs, possible a trimming on a tea towel or hand towel.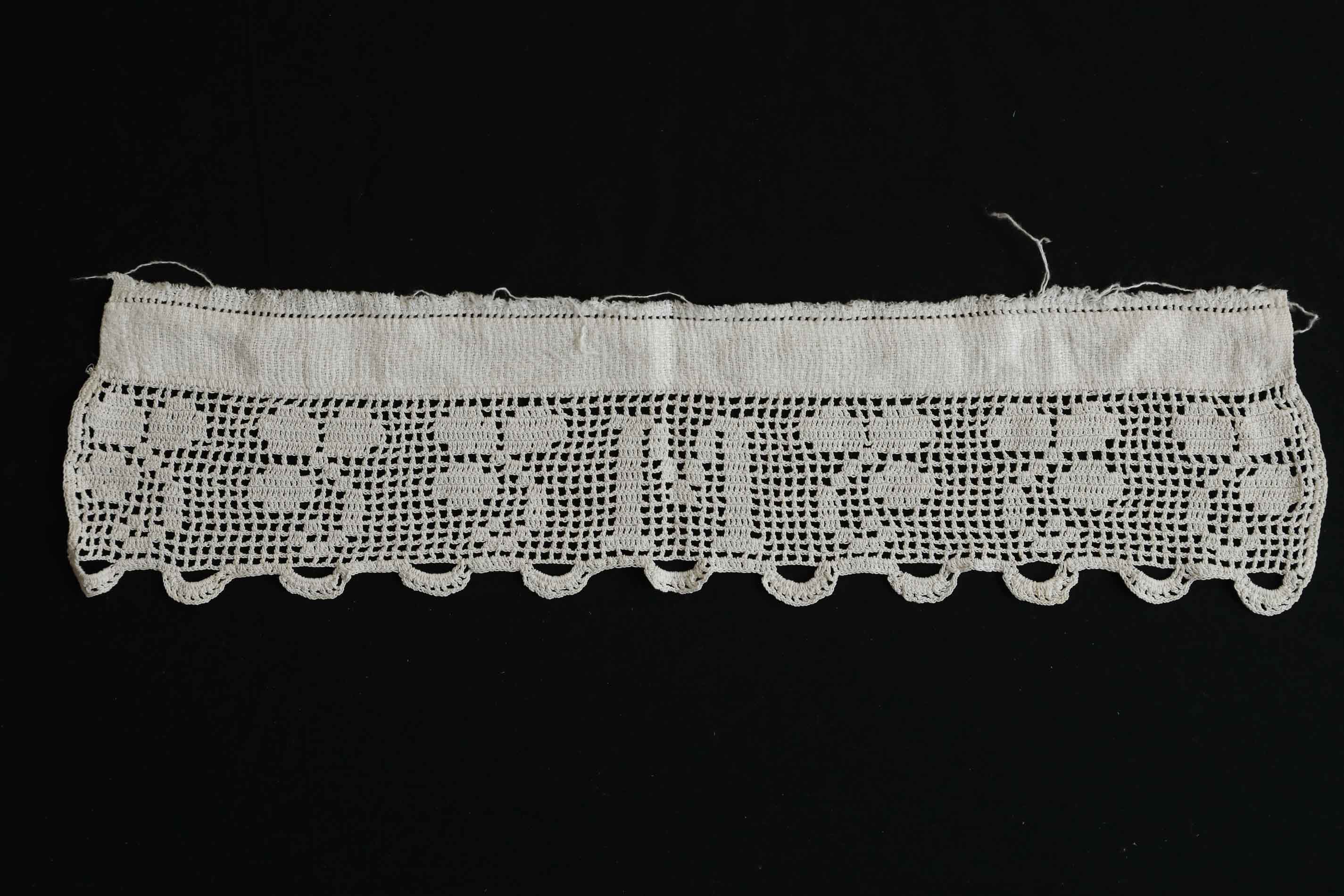 HLP/LM/190
Net/lace curtains were a very common feature of Irish households in the past. For street fronted properties they afforded privacy yet allowed a view to the world outside. Women took pride in having nice net curtains, which were changed with the seasons. One set of curtains was donated to Headford Lace archive recently following a house clearance. When I held them up to the light I noticed that they have a beautiful shamrock pattern. No doubt that these curtains adorned the owners windows for the St. Patrick's Day and were a treasured item of the owner.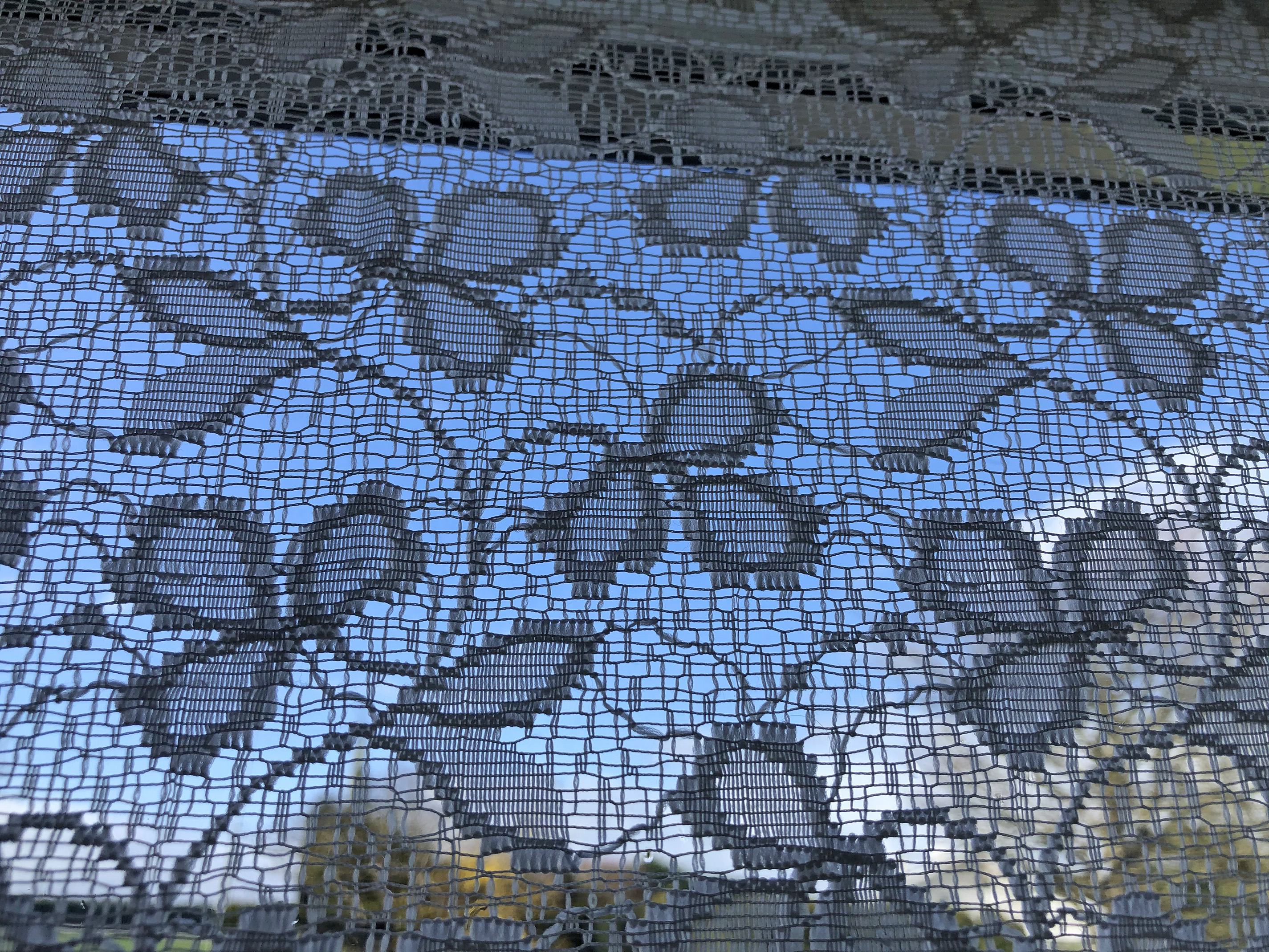 Ireland is the only country to have a musical instrument as it's national emblem. The State coat of arms is a gold Harp with silver strings on a blue field. The harp is also used on the flag as the Presidential Standard, which is flown at the President's residence, Áras an Uachtaráin.
Norma Owens, committee member submitted a piece entitled 'Memento Mary' to the Space Between Exhibition in Headford 2020. It features symbolic motifs that represent the life of Mary (Molly) St. George, the lady who founded the lace industry in Headford around c1765. The harp is a featured motif. It commemorates one of the earliest harp tunes believed to have been composed by the Sligo harpist, Thomas Connellan with extrant lyrics in Mary's honour, ' Mailí San Seoirse'. The tune is still played to this day and was used as a source of inspiration for a Headford Lace Project collaboration with Headford Music Works. This resulted in a new orchestral composition 'Lace Threads, Interlace'. This was supported by Galway County Council Creative Ireland Bursary Award, 2019.