Dhá scéal ghrá nasctha le séipéal na hOllscoile i mBaile Átha Cliath
Thinking about love on St. Valentine's Day one is drawn to the reliquary of St. Valentine, which has resided at the Whitefriar Street Carmelite Church in Dublin since 1836. The church was designed by architect, George Papworth, who coincidentally also designed the 19th-century renovations at Headford Castle. An altar and shrine including a statute of St. Valentine in red carved by Irene Broe is a place of veneration and is visited by couples throughout the year. The church is quite near the University Church where the following two love stories unfold.
Looking for inspiration for a St. Valentine's Day post, I turned to our lace archive which is now digitised on our website with the support of the Design & Crafts Council Ireland. Lace is worn at significant times of our lives and is often imbued with the past. Two items stood out for me, the lace motif from a wedding dress (HLP/CH/017) and a single crochet wedding glove (HLP/BIC/154). They might look like inconsequential items, however their precious threads weave a story of love which I will now attempt to unravel.
A Crochet Wedding Glove
(HLP/BIC/154)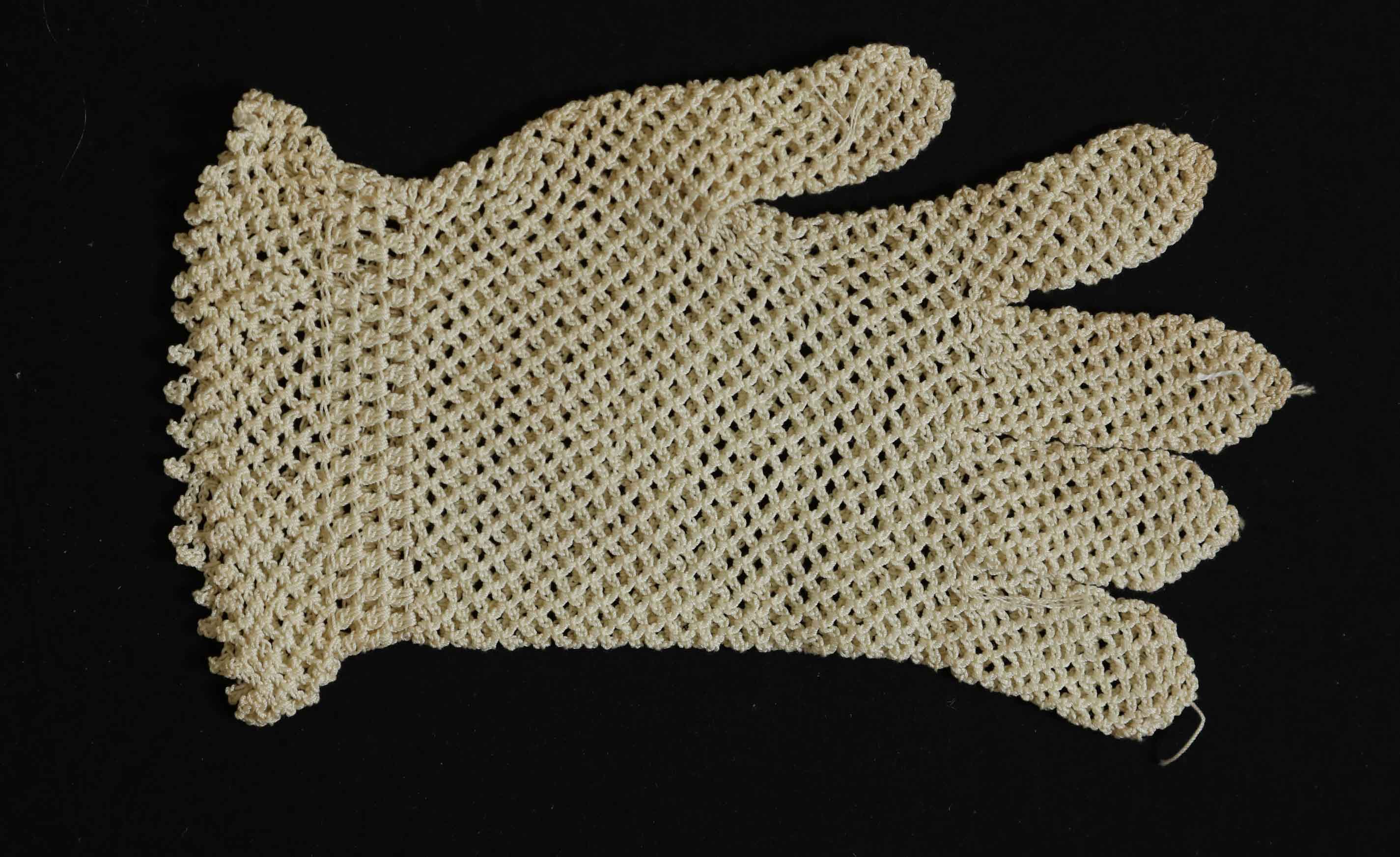 This glove was donated to the lace archive with a number of other miscellaneous lace items. The donor's family played with the pair of gloves as children but only one survives. The handmade crochet gloves were special, as they had been worn by the donor's mother, Molly, for her wedding. A wedding photo of Molly still exists in which she is wearing one glove and holding the other. Molly, originally from Yorkshire was living in Manchester as she had a number of aunts there. She met her future husband, Uinseon (Vincent) a native of that city, at the Gaelic League. Her family did not approve of the union, so the couple decided to travel to Dublin and were married at University Church, St. Stephen's Green, on 29 April 1946, 74 years ago. True love triumphs. We cannot say for sure who made these beautiful gloves and possessed the skills required to construct them. I wonder did the maker know they were going to be worn for this special occasion?
A Lace Motif Fragment from a Wedding Dress Bodice
(HLP/CH/017)
The threads of lace in this floral motif from a wedding dress hide a much bigger story. In the 1960s, the donor, Carmel, lived with her friend Mary in a bedsit in Sherrard Street on the North Side of Dublin. It was a first floor flat with a view of the Jesuit Garden. Despite the fact that money was tight at the time, Carmel had set her heart on wearing a fashionable dress for her wedding. She persuaded Mary to accompany her to look at wedding dresses in Marjorie Boland's Boutique on Grafton Street, a high-class establishment. Mary, despite being a reluctant accomplice, was essential, as she possessed dressmaking skills. Although Carmel really liked a champagne-coloured dress her high aspirations were quickly dashed due to the eye-watering price tag. Not defeated, yet still determined to have a stylish dress, she heard of a woman who had worked for the famous Irish Designer, Nellie Mulcahy. Both girls walked up to the North Circular Road, located her residence and knocked on the door. The dressmaker agreed to make the dress. Mary, having taken stock of every detail of the dress relayed this information accurately to the dressmaker. The dressmaker advised on a champagne-coloured raw silk. The budget could only extend to enough Guipure lace (a high quality machine made lace) for the front of the bodice, as lace was so expensive. The fabrics were purchased in Cassidy's Silks shop on O'Connell Street. Carmel remarked also that it was very convenient that the dressmaker lived nearby and they did not have the additional cost of bus fares when her fittings were required. At the final fitting, Mary remarked that the dress suited far better than the one Carmel had tried on in the boutique. The skill of the maker was clearly evident, she created Haute Couture on a shoestring. Carmel was married in University Church on 26 July 1967, 21 years after Uinseon and Molly.
Headford Lace Project is very grateful to all those people who have entrusted lace items to our archive. The material memory in each piece holds the spirit of the makers. A value cannot be put on memories yet these precious threads transport us to another time and place.