Sybil is a Hunt Museum Exhibition highlighting the design career of Sybil Connolly, a Dublin-based fashion designer who was renowned internationally for creating haute couture from Irish textiles. Last Saturday, the Headford Lace Project was invited by Dr. Matthew Potter of Limerick Museum to attend a special Friends of Lace event at the exhibition.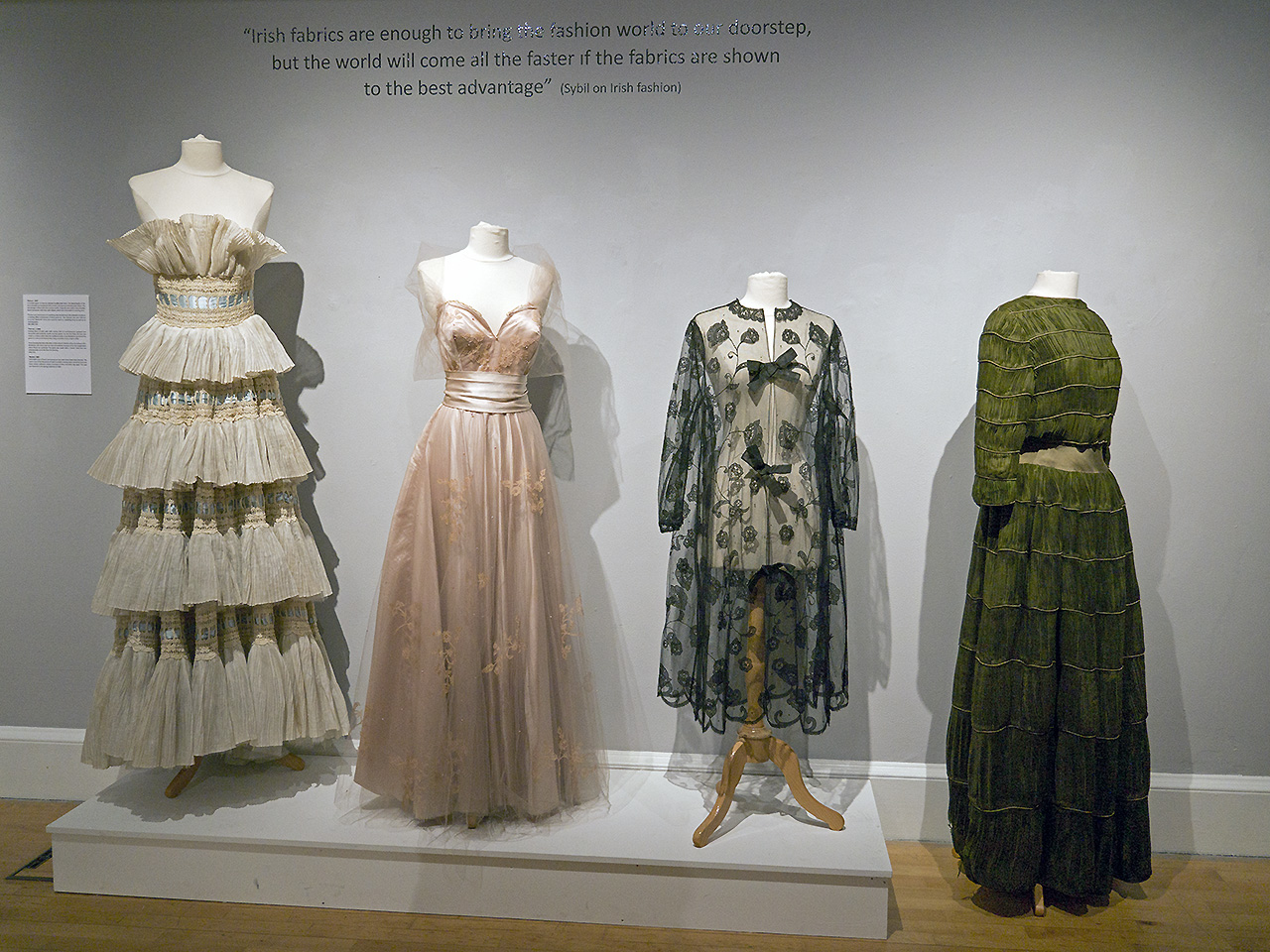 As a designer, Sybil Connolly was not only inspired by Irish heritage crafts, but she was also adamant that her creations would be made by Irish hands in Ireland. As such, she provided employment to Irish tailors, weavers, seamstresses, and lace crocheters. She reportedly employed 54 people to hand-crochet lace in their homes, while nuns made the Carrickmacross Lace that was a key style feature of her work.
Sybil, the exhbition, comprises a collection of garments, sketches, maquettes, and magazine covers featuring Connolly's designs, plus a collection of homewares designed by the fashionista in her later career.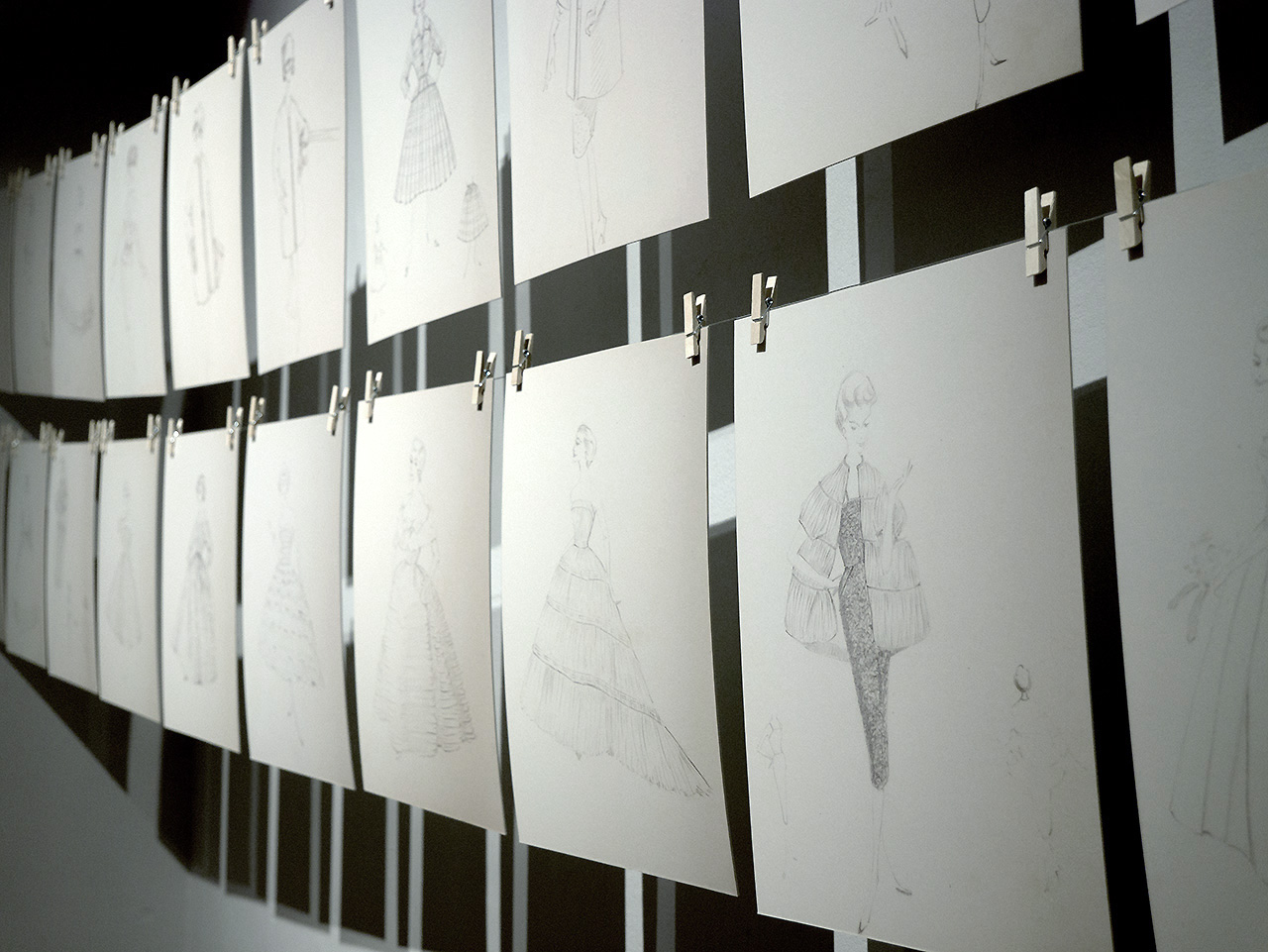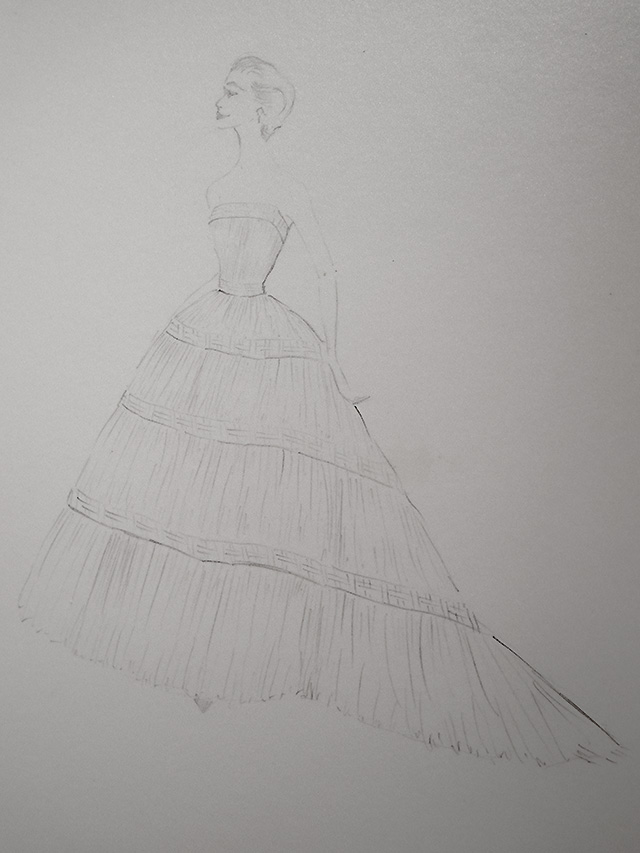 The toile maquettes, scale models used to test fabrics, colours, and designs, were mesmerising in their detail.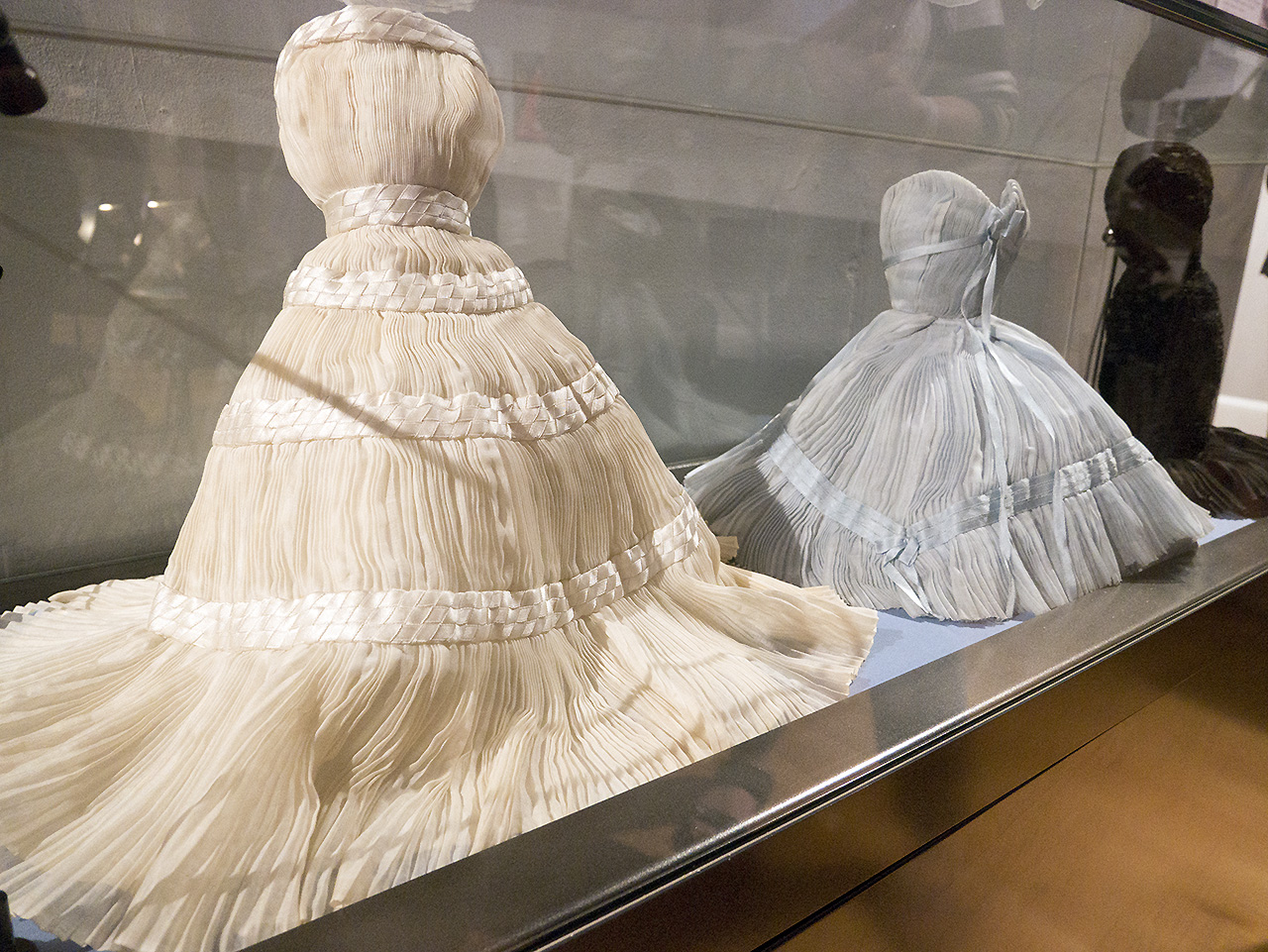 Indeed, one of the fascinating aspects of the exhibition was the ability to trace some of Sybil's designs from sketch through to maquette through to the finished garment. First Love, dating to 1952, is an example. This gossamer linen dress had more than 5500 tiny tucks on the linen, and nine yards of loose linen were required to make just one yars of tight pleats.
Sybil made this oyster two-piece wedding outfit for her niece. The long sleeved boat neck top is in the uniquely pleated linen, and the skirt is based on the design of the iconic First Love dress. The hemline of the skirt dips slightly at the back.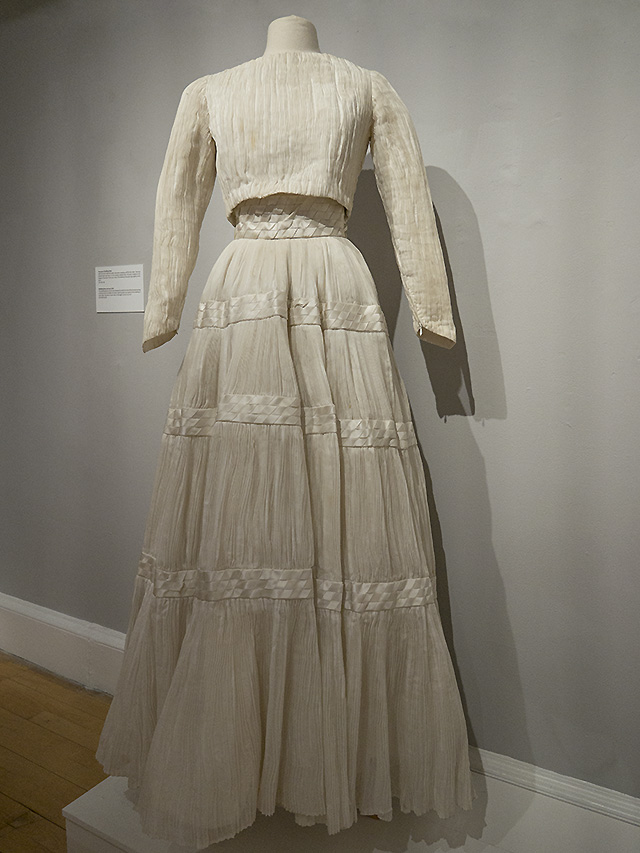 A feature of Sybil's fashion collections were her use of Irish textiles, including finely pleated linen, báinín wools, tweed, and lace.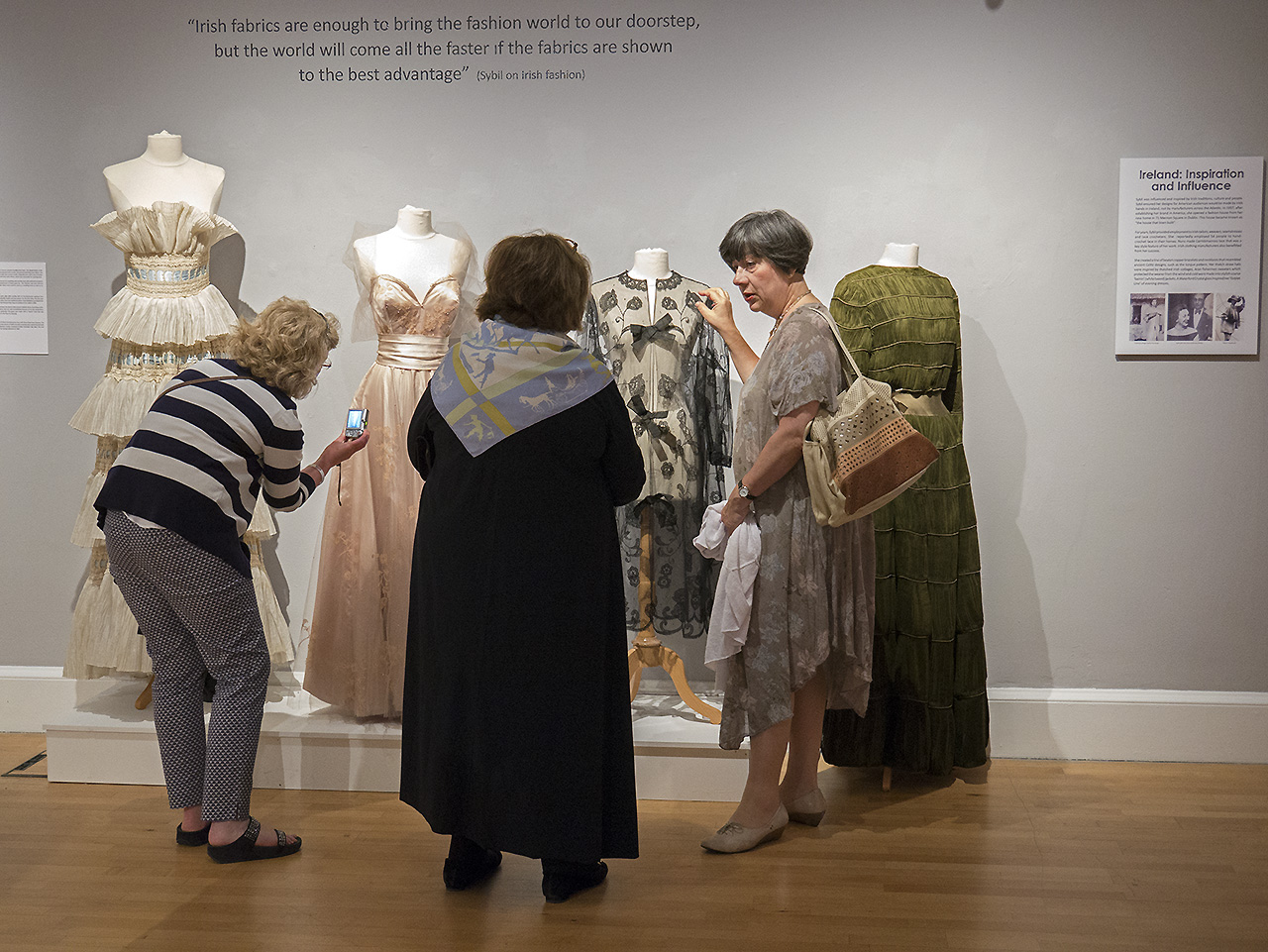 Naturally, it was the lace which drew most of our attention.
The Illusion half-length evening coat from the 1967 Spring Collection is made entirely from black Carrickmacross Lace and is fastened with three black bow closures. The coat belonged to Gertrude Hunt.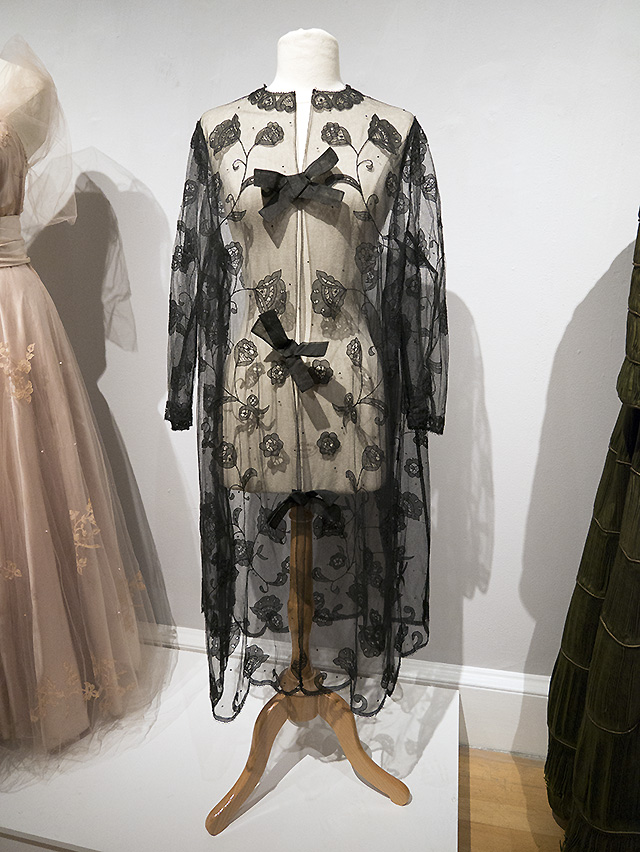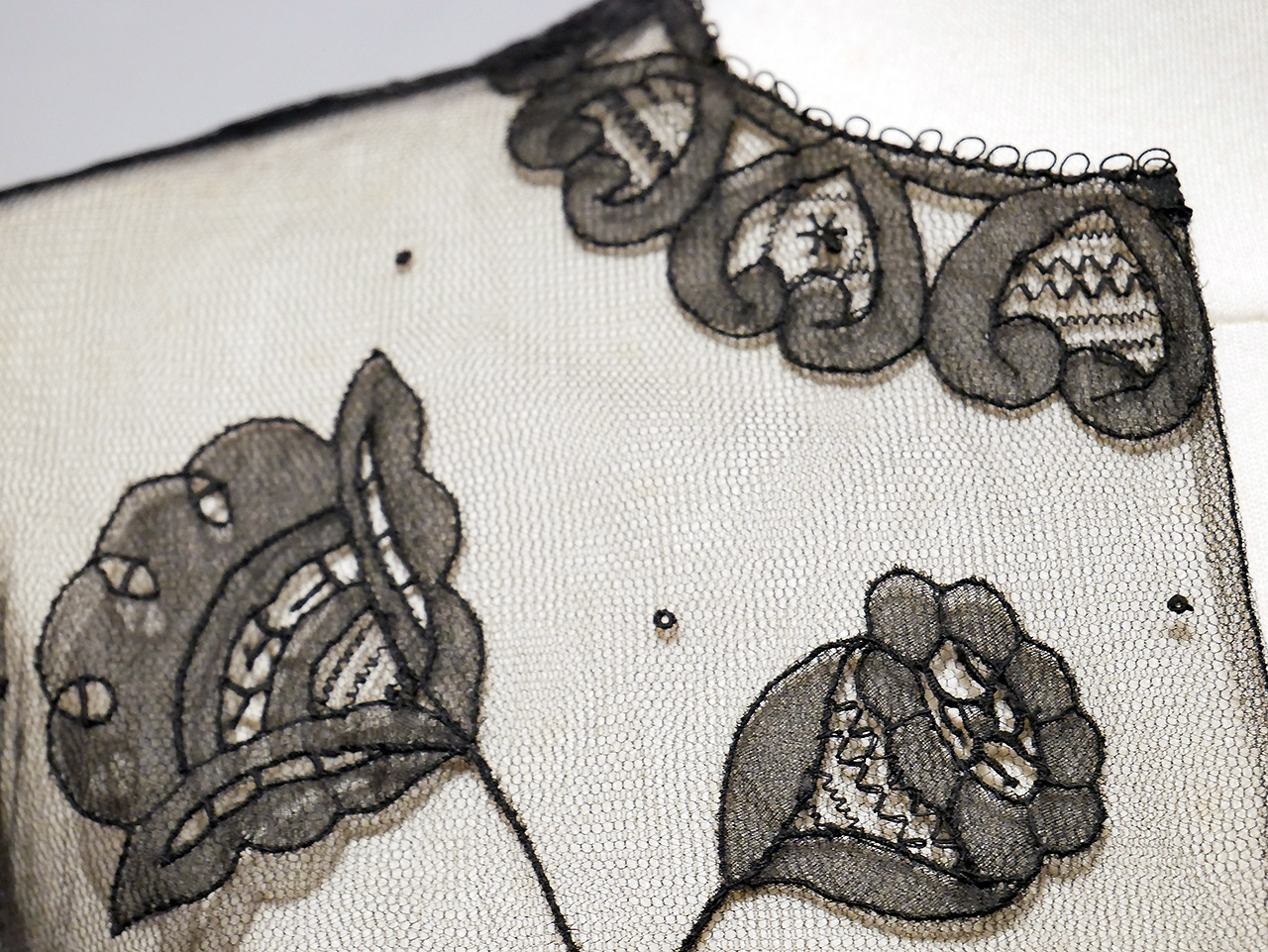 Another exquisite garment in the collection that features Carrickmacross Lace is Pink Ice (1956), an evening dress of pink satin with Carrickmacross Lace overlay decorated with tiny pearls. This dress was the first time that Carrickmacross Lace was made in a colour other than the traditional white. Enda McMahon purchased the gown in a sale at the Richard Alan shop on Grafton St for a ball in 1956. It had originally been made with a 'harem' train that was cut to the floor for dancing.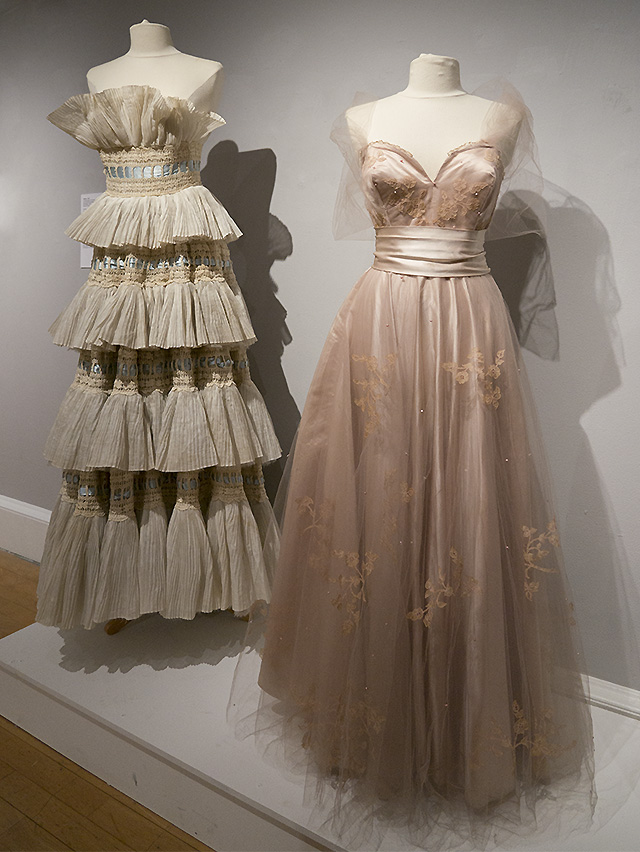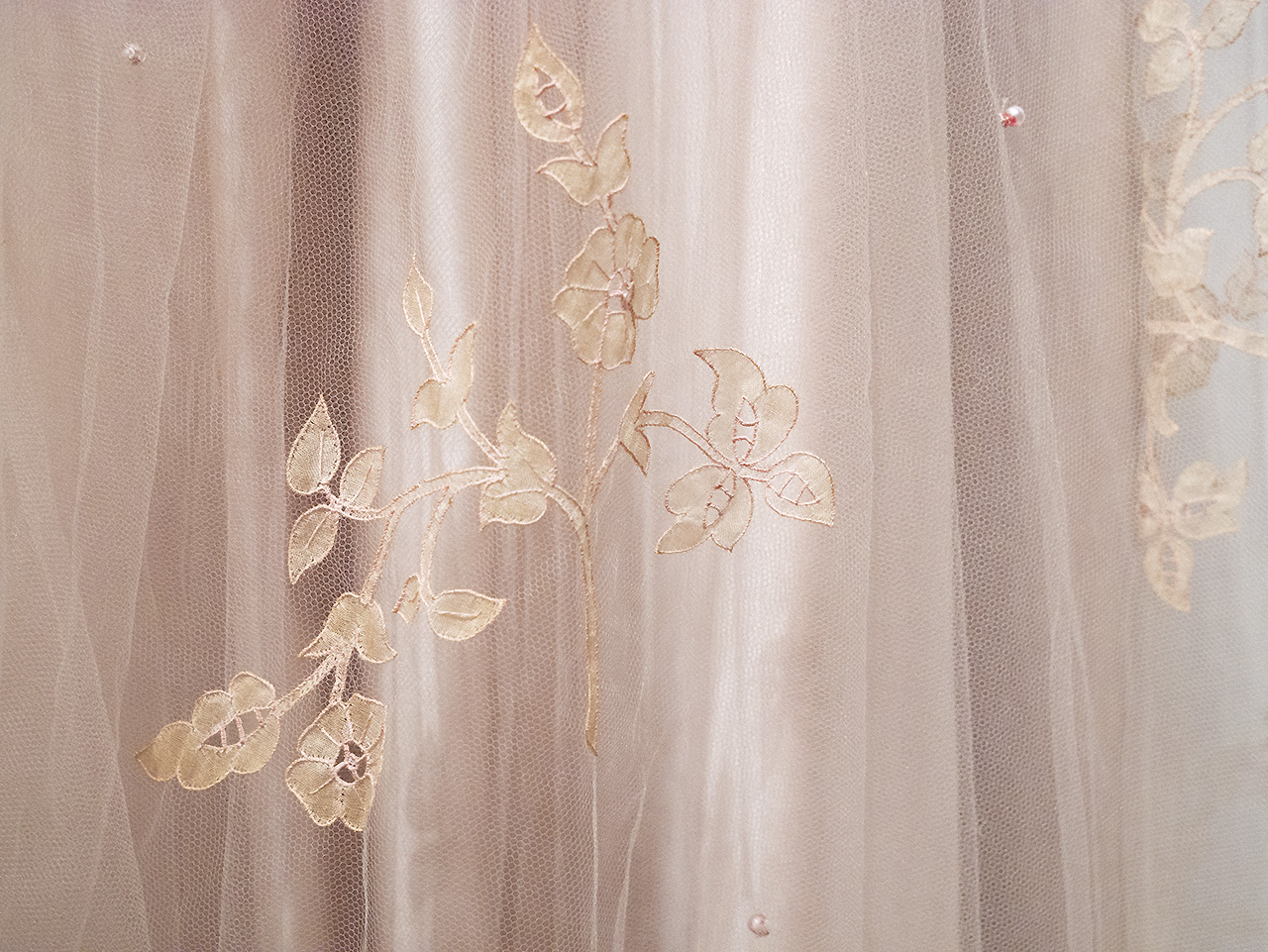 Sybil was known for combining the finest lawn with hand-crochet lace to make evening gowns such as the Heiress dress.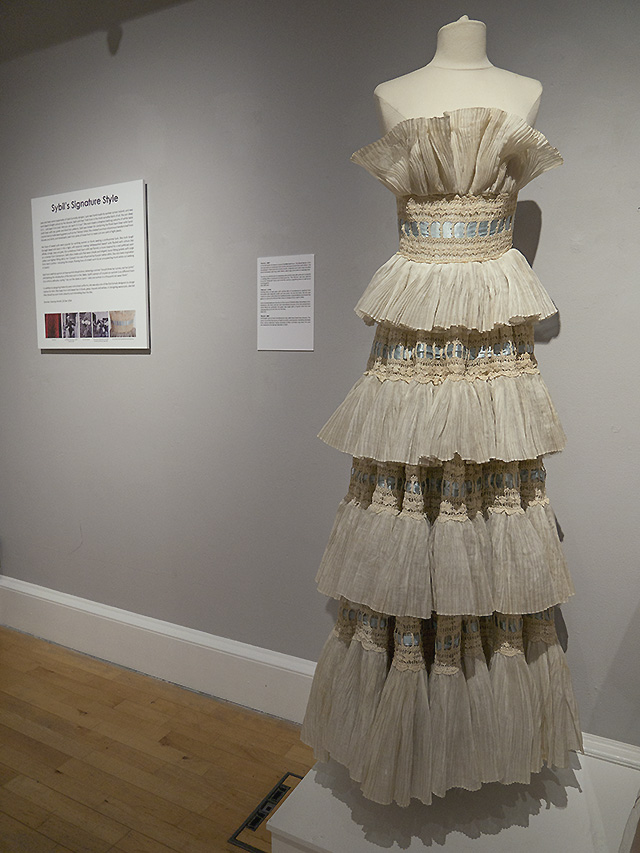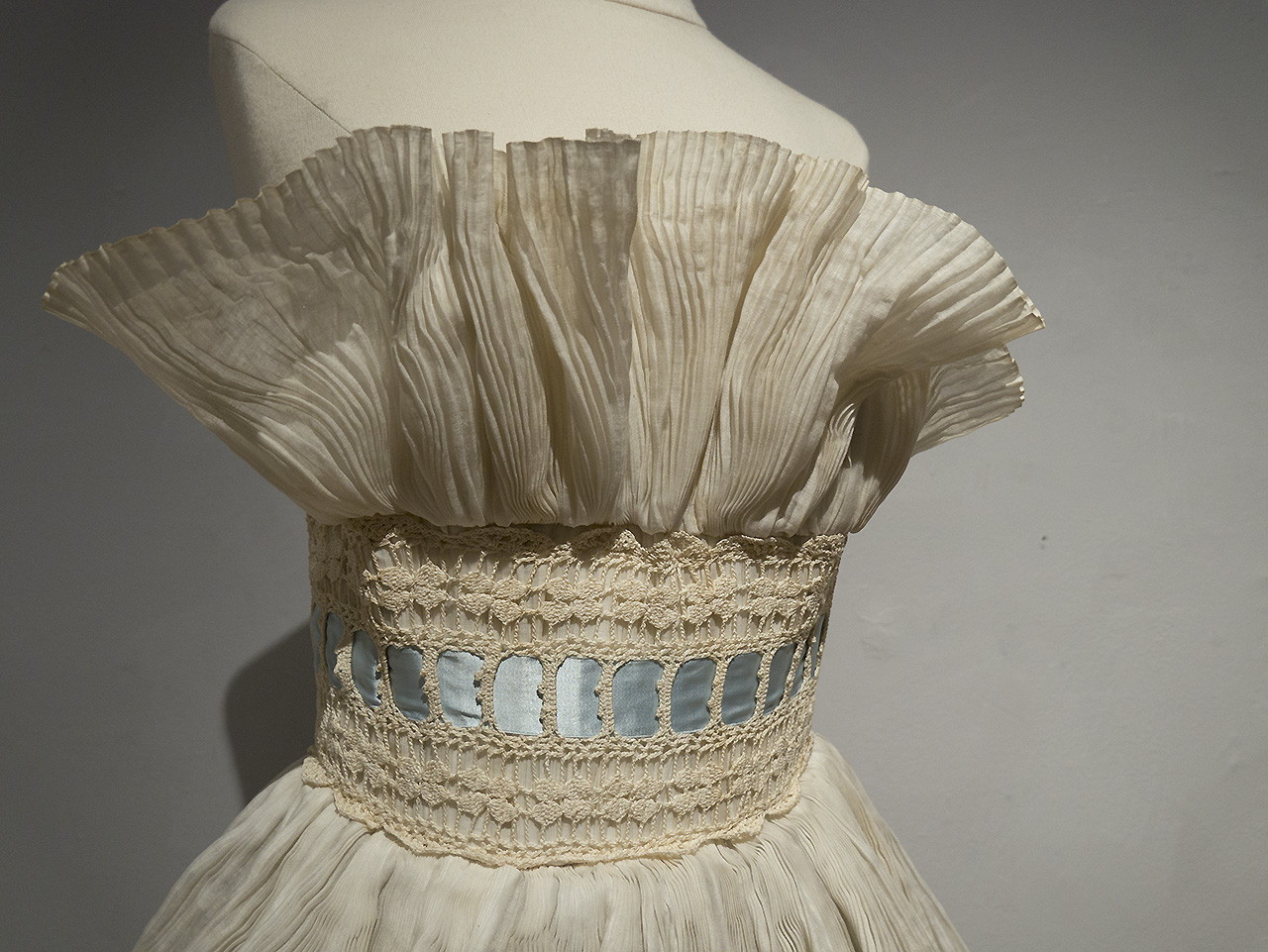 Irish Crochet Lace featured prominently in Sybil's designs. This cream crochet knee-length day dress was constructed with a short-sleeved poplin dress overlaid with cream crochet lace.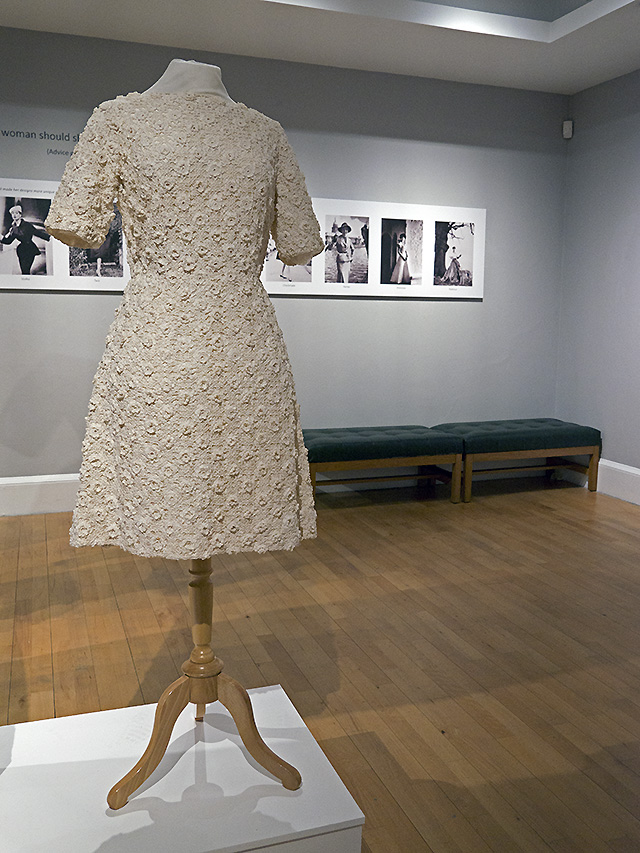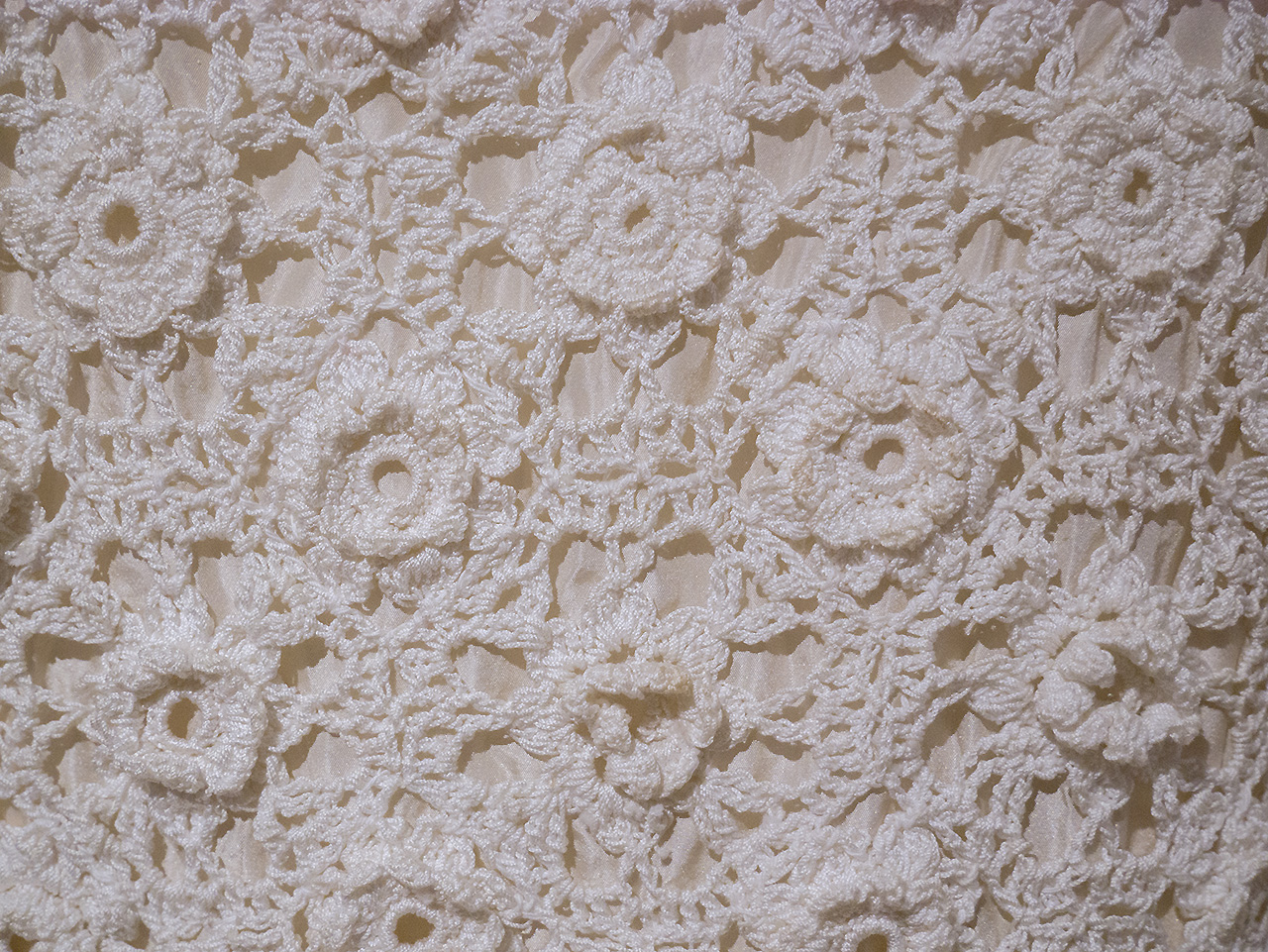 Similarly, this cream evening gown is made of silk with a flower pattern crochet lace top. It was worn to the world premiere of Mary Poppins when shown in Los Angeles in 1964.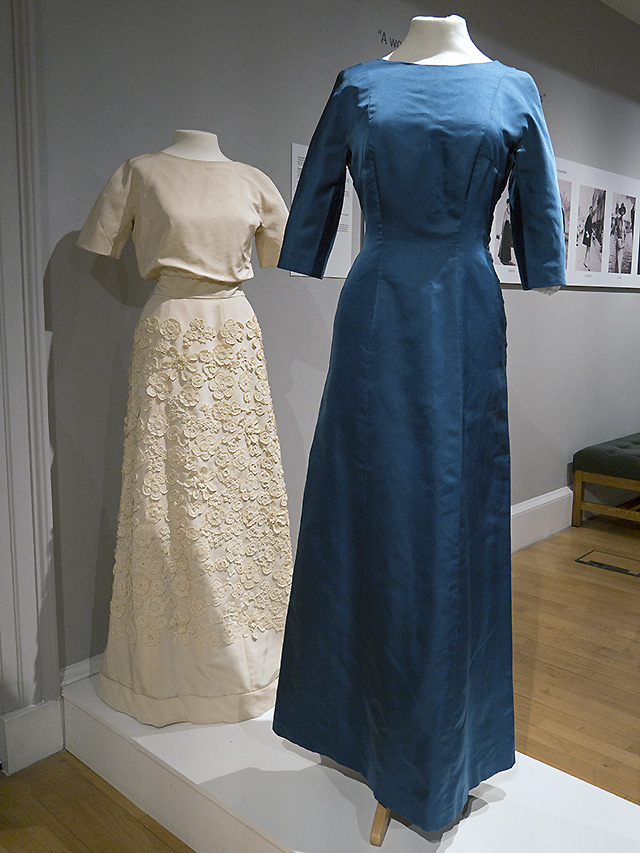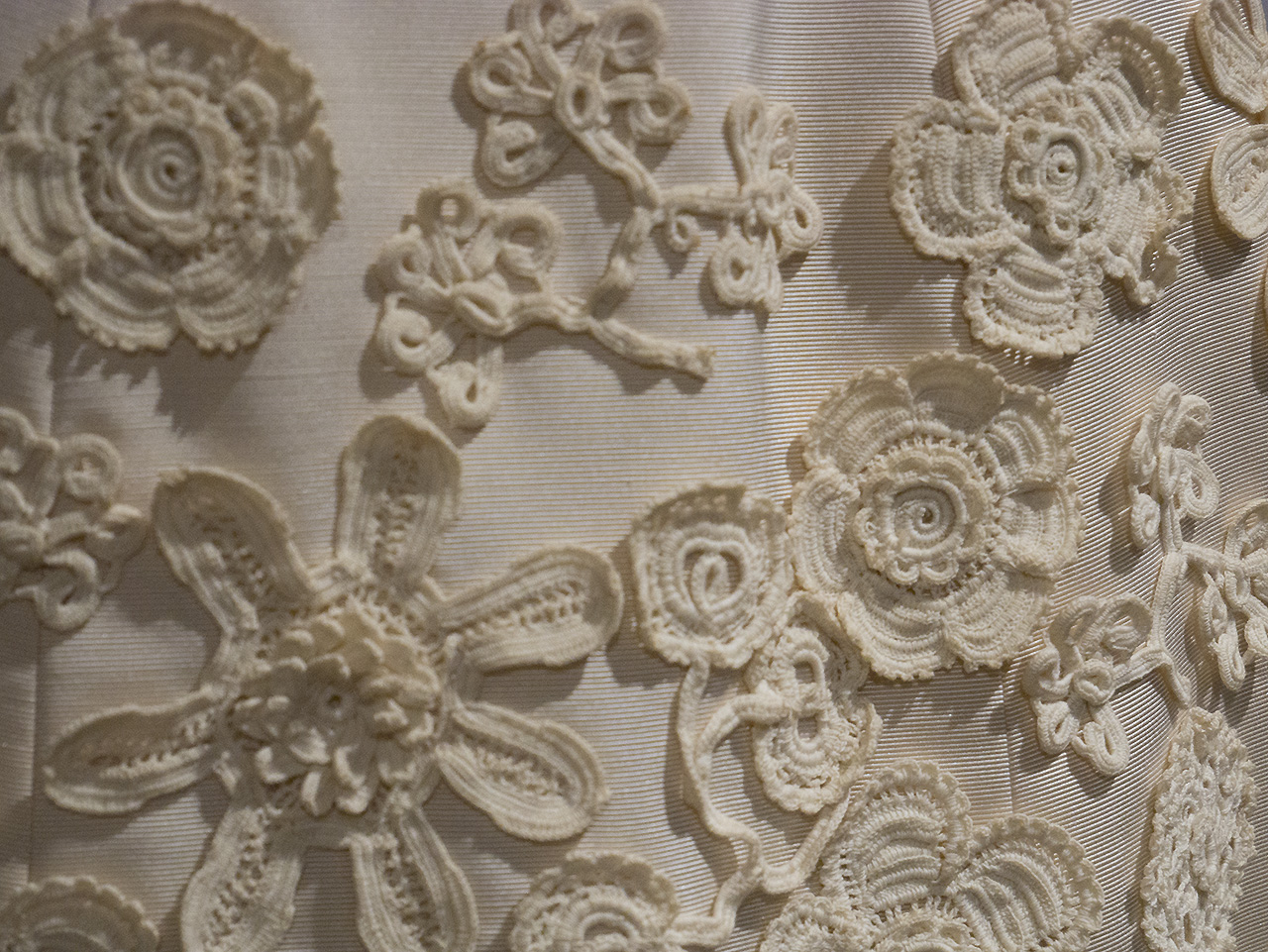 As seen with the pink Carrickmacross Lace dress, Sybil often liked to use traditional fabrics and craftwork while giving them a modern twist. Here, she used gold thread. The short jacket in gold crochet over linen with three buttons and silk lining belonged to Mrs. Gertrude Hunt.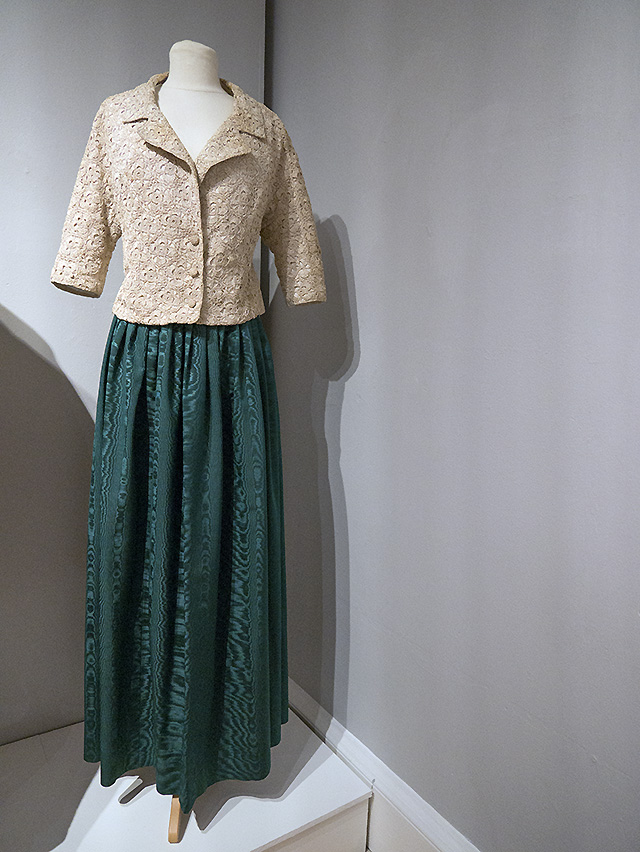 Of particular interest to the local lacemakers was the satin wedding dress with a Limerick Lace collar and full-length Limerick Lace veil dating from 1945. It was designed for a wedding at which Sybil herself was a guest.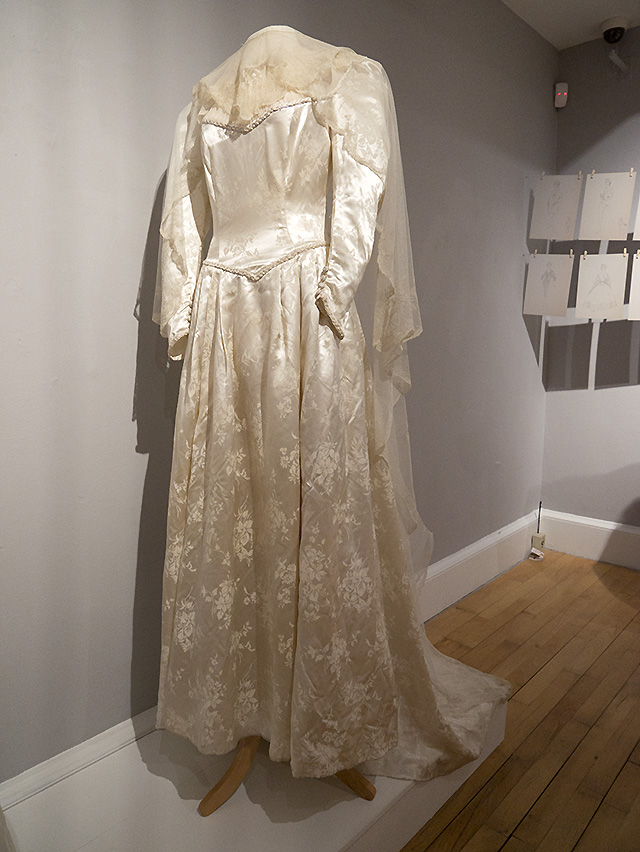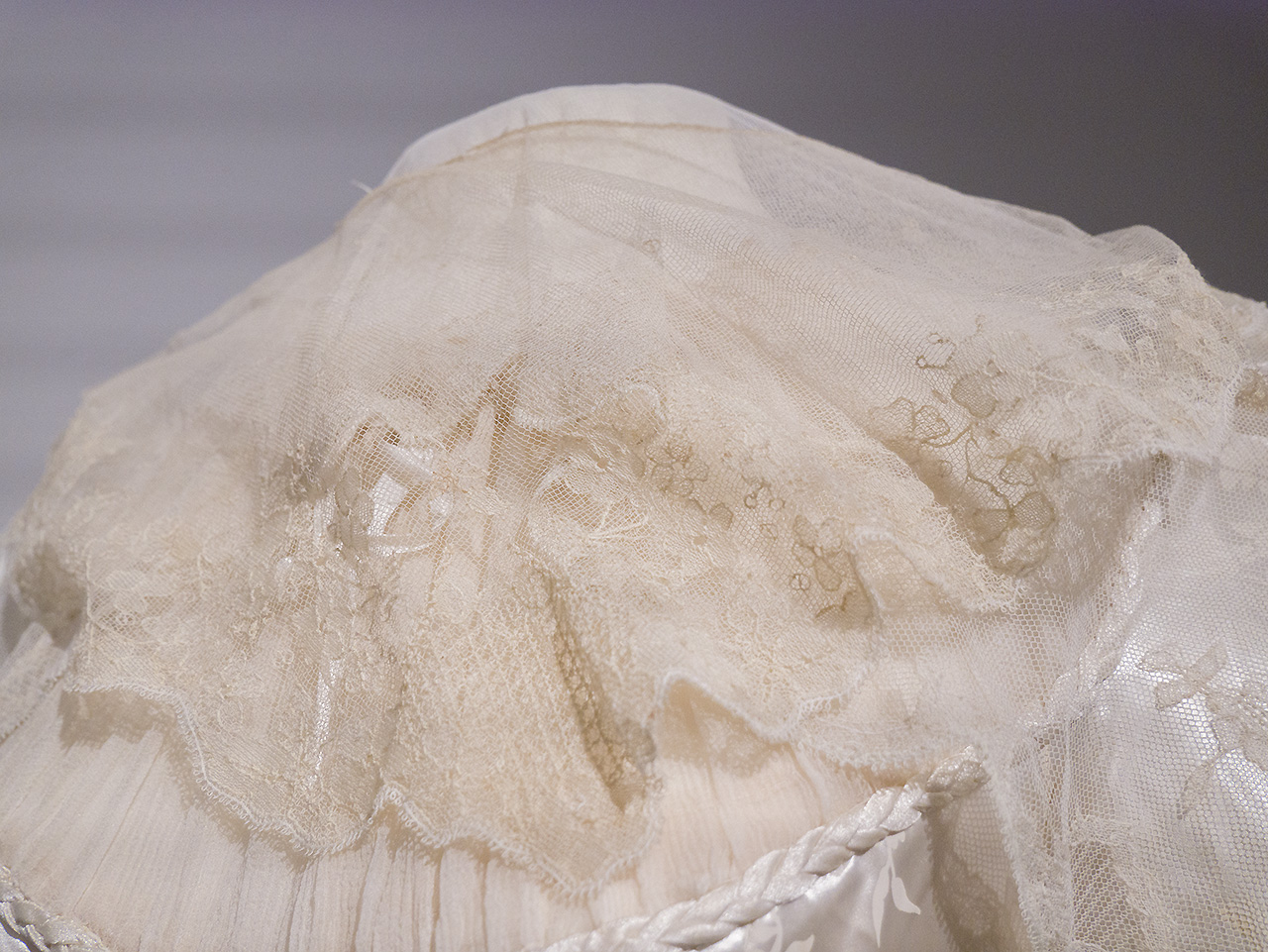 This exhibition is highly recommended for anyone with an interest in Irish design, fashion, or textiles. I have highlighted just a small part of the collection here - other delights to discover include day dresses, evening gowns, and coats in a variety of exotic and traditional Irish textiles ranging from a navy silk hostess gown to a red quilted báinín wool skirt. The exhibition runs at the Hunt Museum until the 31st May 2018.
For those who can't make it in person, the Hunt Museum and Friends of Lace in Limerick have contributed to a Wikipedia "edit-athon" to update the entry on Sybil Connolly - scroll to the end to view the images from the exhibition contributed to Wikimedia Commons by the Hunt Museum.