The Fashion Museum Bath showcased 50 exquisite pieces which demonstrated how lace has been used from the 1500s to the present day. I was drawn to this beautiful dress by Cristobal Balenciaga from the 1950s. 'He was born near San Sebastián in Spain and showed his talent early: as a teenager he copied couture designs. He set up a tailoring studio in 1916, at the age of 21, and dressed members of the Spanish royal family.' The full-length evening dress is comprised of cream organdie with appliqué design imitating Carrickmacross lace. It is a very elegant dress with a beautiful silhouette and cut. It was also great to see award winning Irish designer Simone Rocha's biker Jacket and mini skirt ensemble from 2012 in the contemporary section. It was interesting to see lace used in this design.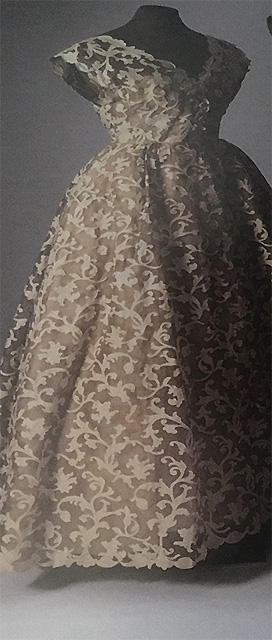 I was immediately struck by the the beautiful embroidered pieces from the 17th century on display in the Fashion Museum. It was a case of "Heaven's Embroidered Cloths" as I have always had a deep admiration of such finely crafted needlework. There were workshops and organizations for trades like embroidery and weaving which had their origins in the medieval guild system. A guild was a grouping together of workers in one particular trade, which set and maintained professional standards and controlled the sale of its goods. One of the earliest records of a guild operating in England is the royal charter granted to the guild of weavers in 1155'. English embroidery is highly regarded for its beauty and quality. This beautifully embroidered linen jacket was fashionable item of clothing in the 1620s. Embroidery is the art of enriching a fabric by stitchery and this jacket is decorated with a distinctive pattern of bell-like flowers, striped leaves and butterflies enclosed in large spiral compartments was typical of the era. It is an exquisite piece of work and almost timeless as it could still be worn today.
Anne O'Hara Quinn also suggested we acquire a book entitled The Identification of Lace by Pat Earnshaw from the Fashion Museum shop. As education officer Anne felt that this book would be a useful addition to the Headford Lace Library. It will be a valuable reference and will help us in learning how to identify different types of lace.